Balsamic Vinegar and plastic: yes or no?
In 2020, read news and articles about plastic reduction targets on our planet is on the agenda. Countries, businesses and companies are committed to reducing the environmental impact, hoping to restore some well-deserved health to our planet Earth.
The European Parliament approved a directive on March 27, 2019, which aims to face the plastic emergency and protect our health. Among the measures contained in it, we find the absolute ban for some disposable plastic objects and packaging by 2021 and 90% of Pet bottles must be recycled by 2029.
The idea is simple: stop using plastic!
To find green solutions in any sector human creativity and concreteness mix together. The same thing happens in the agri-food sector too. Disposable packs and plastic containers are replaced when possible with paper, wood, glass or steel containers.
Balsamic Vinegar and plastic
All these measures do not influence the companies that dedicate to the production and sale of Balsamic Vinegar in the Modena area. This food excellence, when obtained following the methods of ancient traditions, does not use plastic in any production phase!
The production starts with steel vats used for cooking, then continues with the ageing phase, which takes place in strictly wooden barrels. The product remains still for several years in the wooden barrels, before being carefully bottled in glasses bottles.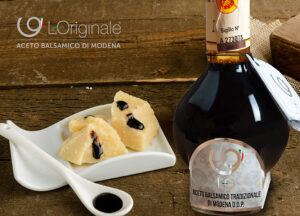 In particular, the Traditional Balsamic Vinegar of Modena PDO, the most prestigious on the market, must be bottled by the Consortium in bottles designed by Giugiaro, 100 ml of capacity and made of glass!
Besides, the law is clear about the last point:
article 28 4.1.3 – D.P.R. February 12, 1965, number 162 states that "Musts, wines, special wines and vinegar must be placed on the market for direct consumption in glass, earthenware, ceramic, porcelain, wood or other material containers […]".
There is no relationship between true Balsamic Vinegar and plastic.
Modenese companies in the Balsamic Vinegar sector have been green for a lifetime!
On the market, vinegar packs can be found in plastic containers.
These are often low-quality products, very different from the food excellence recognized by the Balsamic Protection Consortia and by the inhabitants of Modena.
Balsamic Vinegar and plastic? NO!