Balsamic Vinegar Chicken is a delicious plate prepared with tasty ingredients which can please the palate and satisfy even the most demanding gourmet or perfect for those who are caring their weight.
Recently, many people are looking for a healthier nutrition, shifting towards organic food and leaving behind food considered to put in danger their own health.
Eating chicken meat is a good example of following a healthier nutrition because it is a white meat which, compared to the red one, is considered poor in fats and calories, but at the same time rich in proteins and it is ideally suited for people who want to maintain a body weight. Consequently, chicken meat can be cooked in various ways, such as roasting, backing, broasting and frying. In addition to that, in order to give a special taste to the dish, it can be combined with original Balsamic Vinegar of Modena. There are different ways of using Balsamic Vinegar in combination with chicken meat, such as " Balsamic Vinegar Chicken and curry" in which chicken meat is marinated in Balsamic Vinegar for 10/15 minutes or " Balsamic Vinegar Chicken strips with courgette" in which both chicken meat and courgette are simmered with Balsamic Vinegar towards the end of the cooking phase until reduced.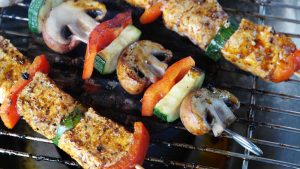 As a matter of fact, a classic well-known recipe in the Italian region of Emilia Romagna is "straccetti di pollo all'Aceto Balsamico", that is Balsamic Vinegar Chicken strips . It is a really delicious plate thanks to the addition of the magnificent flavor of Balsamic Vinegar of Modena. In contrast to other recipes , in this one Balsamic Vinegar original is used as a sauce. Here you are the whole recipe:
Ingredients:
chicken strips, original Balsamic Vinegar of Modena PGI, flour, oil, sugar. onion, water, salt and pepper as required
Method:
In a pan lightly fry with oil a finely chopped onion.
flour the chicken strips and add them in the pan.
flavor with salt and pepper as you like and let them cook around 10 minutes.
prepare the Balsamic Vinegar sauce: you need 5 spoons of Original Balsamic Vinegar of Modena PGI and you need to dilute with a little water and a pinch of sugar
whenever the sauce is ready, pour it in the pan together with chicken strips and let it cook for some minutes.
whenever the chicken strips are ready and the sauce is reduced, you can taste this chicken strips in combination with some vegetables or with slivers of Parmesan cheese.
L-Originale Traditional Balsamic Vinegar of Modena: www.l-originale.com