Traditional balsamic vinegar of Modena is related to tradition. Old fashioned wood barrels, cooked must and time, these are the ingredients and they are what makes balsamic vinegar so perfect. However, we cannot run away from innovation and that's why a new app for the enthusiasts is born. Welcome to the meeting with world. Welcome to Balsamic Vinegar New App 2.0
This app came from an idea of Mauro Fini, the Grand Master of the Consortium for the Traditional Balsamic Vinegar, and was developed for the sommelier. In fact, balsamic vinegar, such as wine, has its sommelier that help to differentiate between balsamic vinegar and dirty water.
But how does this APP really work? First of all, it's important to say that this is an oenological app, meaning that can be used by both wine, and vinegar sommelier. The function of the app is to keep record of the tasted products. In fact, this will record of the "sips" taken on a yearly basis.
The fundamental thing is that the app will help the growth of the people. The sommeliers, and all the people registered on this platform, will be fully connected. This can be considered as the first social network for sommeliers. They will be able to monitor their progress throught the entire regitration period.
The exacts words used by the Grandmaster were "Nowadays an innovation is required. Not in vinegar production, but in communication among the people. This app will keep track of the evolution for both students and sommeliers."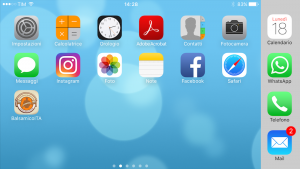 This app, however, is not the first move into the web. In fact, during the EXPO in Milan, a cultural association of Spilamberto (birthplace of balsamic vinegar), called BalsamicAPP, focused entirely on Balsamic Vinegar of Modena.
So, our glossy and black excellence is moving toward the innovation. And again: Welcome to Balsamic Vinegar New App 2.0.
L-Originale Balsamic Vinegar of Modena: www.l-originale.com