The Balsamic Vinegar of Modena cocktail could sound a little bit strange to your ears, since the balsamic vinegar cannot be drunk just as water for its strong taste. What if I tell you that it is possible to make a cocktail with balsamic vinegar? Let's find out the recipe!
Its name is American Bridge and it is a cocktail made up of:
– 1 baking pot of Balsamic Vinegar of Modena IGP
– 5 drops of angostura
– 1 slice of fresh ginger
– 40 ml of Red Vermouth
– 1 orange peel
– Ice
– Ginger ale
Put a few cubes of ice in the jar, add ginger, angostura and balsamic vinegar original, add the red vermouth and mix.
Fill up the jar of ice and flavor it by twisting the orange peel over it, then close with ginger ale. Mix and finish the cocktail by brushing the edge of the balsamic vinegar pot.
This balsamic vinegar cocktail should be served in a jar, to give him the unique aspect that combines perfectly with the particular taste of this cocktail.
Another recipe of an exquisite balsamic vinegar cocktail is called Bloody Mary and it contains one of the most liked fruits, bluebarries: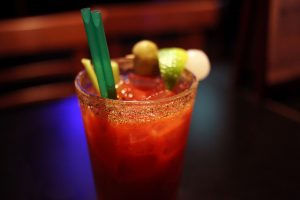 4 cl vodka
2 cl blueberries
1 cl Original Balsamic Vinegar of Modena IGP
A bowl of sugar
Three drops of blueberry essence
Sprinkle the blueberries with vodka in the boston shaker, put a sugar bowl, add the ice, the remaining ingredients, shake the mixture, filter and serve.
As we have seen from these recipes, the balsamic vinegar is a very versatile product, that can be employed in different plates, from salty dishes to dessert and also…cocktails. These are cocktails in which the balsamic vinegar is not the main character, will we taste a cocktail based only on original balsamic vinegar and ingredients that can exalt its taste? L-Originale is working on this new sensorial experience…stay tuned!
L-Originale Traditional Balsamic Vinegar of Modena: www.l-originale.com