Balsamic Vinegar with filet mignon. It is Christmas time: decorations and lights are everywhere. The Christmas tree, the gifts and we are ready to taste the most delicious dishes.
This year will be a little different. The current situation due to the Covid-19 has changed the usual way of celebrating this special day. We don't want to feel discouraged! We cannot stay more than four people together celebrating Christmas time, but we can still prepare something delicious for our loved ones.
Each family have a traditional menu for Christmas time that they prepare year after year but something it can be modified or revisited.
For example, the aunt that returns from a trip to Asia and adds a touch of ginger to the cake or the younger ones who propone finger food.
Some changes are good also on the traditional menu.
Balsamic Vinegar with filet mignon
We want to share to you an idea to revisit your Christmas or Santo Stefano menu by trying the Balsamic Vinegar with filet mignon.
It is a delicious second course, easy to prepare that will allow you to bring a unique delicacy to the table!
Ingredients for 4 people: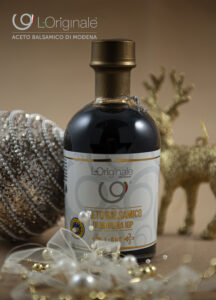 400 gr of beef fillet
25 g of butter
salt
Ingredients for the sauce
120 ml of Balsamic Vinegar of Modena PGI
20 g of sugar
2 tablespoons of water
Preparation
To prepare the juicy filet mignon with Balsamic Vinegar start by cutting the fillet into round slices of about 4 or 6 cm in diameter and 1 or 2 cm thick.
You can tie them with string to prevent them from losing their round shape during cooking.
Then put the Balsamic Vinegar of Modena PGI, the water, the sugar and some salt. Turn on the flame and keep the mixture well mixed.
We can now proceed with cooking the meat.
At the meantime melt the butter in a non-stick pan and place the fillet slices.
We recommend cooking the meat for 3 minutes per side for medium cooking.
Once cooking is complete, place the slices of fillet on a plate and sprinkle them with the Balsamic Vinegar sauce.
You can accompany your filet mignon with Balsamic Vinegar with a side dish of your choice. You can add vegetables, rice or potatoes!
Enjoy your meal.
We wish you a Merry Christmas!
Greetings from Modena.