Beef sliders might be small in size but they're big in flavor. Made with beef, Provolone cheese and Traditional Balsamic Vinegar od Modena, they make a great tastier alternative to a classic burger.
Ingredients
1 pound of ground beef

8 potato slider buns

4 slices of Provolone piccante or sharp provolone cheese

3 Tablespoons of Traditional Balsamic Vinegar of Modena PGI or DOP

1 Tablespoon of sugar

Salt and ground black pepper to taste

Mayonnaise to taste (for serving)
Procedure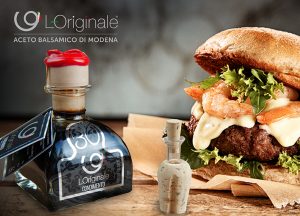 First of all slice the onions very thinly and torn the slices of Provolone cheese in half. Then divide the beef into 10 equal-size pieces  using a knife or a pastry cutter. After that place 1 piece of meat onto a work surface. Then, cup your hands around the meat and shape it into a rounded mound. Season it with salt and pepper to taste. You'll have to do the same with every piece of the meat.
Meanwhile, prepare a grill for medium-high heat. Grill the mini burgers until they become lightly charred on bottom; this operation will take about 5 minutes. Then flip and top with a piece of Provolone cheese. When the cheese is melted, transfer the mini-burgers to a cutting board and let them rest for 10 minutes.
Subsequently grill the potato slider buns, cut them and let them cook for 1 minute, until they are lightly charred around the edges. Then  mix in a bowl the red onions with sugar,  salt and traditional Balsamic Vinegar of Modena and let it rest for a while.
Finally place the mini-burgers onto the potato buns, season them with more black pepper and mayonnaise. Close the buns and serve!
What do you think about Beef sliders with Provolone and Balsamic Vinegar?!  I guess you'll love them.
L-Originale Balsamic Vinegar of Modena: www.l-originale.com