Today we talk about  "Borgo del Balsamico", a vinegar cellar located in Botteghe di Albinea, in the province of Reggio Emilia. "Borgo del Balsamico" is much more than a Vinegar cellar; in fact, it is an historical and artistic building which serves also as residence four tourists in love with Made-in-Italy products and lifestyle.
The residence has 4 rooms, a swimming pool and a beautiful garden full of roses. Cristina, one of the daughter of the owner, takes care personally of the rooms and of the Marketing. At "Borgo del Balsamico" one can find Traditional Balsamic Vinegar of Modena PGI and Balsamic Vinegar of Reggio DOP. Furthermore the offering include also the peculiar condiment "del Borgo". All products come to your table in homemade bottles, sealed one by one.
Moreover, consumers can easily distinguish the different products from the color, having each product a packaging of a different color; this was an idea of Cristina that thinks that it is really important to make it easier for customers to recognize the different products in order to be well informed about what they're buying.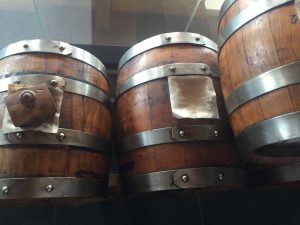 Additionally, another interesting product offered by the Vinegar cellar is "Balsamic à porter". It is a high quality Vinegar which comes in a very innovative packaging which consists in a single dose sachet. The one with the yellow label is the perfect dose for a salad, whereas the one with the red label is the perfect dose for an ice-cream. This innovative packaging is perfect for traveling, since you can carry it wherever you want!
To conclude, Vinegar cellar "Borgo del Balsamico" is an innovative place that we recommend to all those that want to spend some days away from the noise of cities, enjoying the gastronomic excellencies of our territory.
L-Originale Balsamic Vinegar of Modena: www.l-originale.com