Do you think that chicken breasts are a bit boring? This chicken recipe will make you change your mind! Chicken breasts enriched with a special sauce made of mushrooms and Traditional Balsamic Vinegar of Modena will be able to conquer your palate, we can guarantee!
Ingredients
4 skinless and boneless chicken breasts

300 g of fresh mushrooms

3 tablespoons of flour

2 tablespoons of extra virgin olive oil

5 cloves of garlic

4 tablespoons of Traditional Balsamic Vinegar of Modena PGI
170 ml of chicken stock
1 bay leaf
1/4 teaspoon of dried thyme
1/2 tablespoon of butter

Salt and pepper to taste
Procedure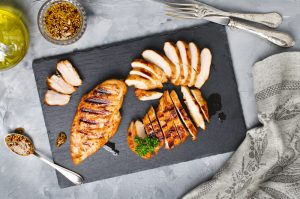 First of all slice the chicken thinly so that it will cook faster and season it with salt and pepper to taste. Then wash the mushrooms and slice them. After that, add salt and pepper to the flour and dredge the breasts in it. Then heat oil in a frying pan over medium high heat and saute the breasts until they are nicely browned on both sides.
Now it is time to add the garlic gloves, finely chopped. Turn the breasts and add the mushrooms. Then, continue frying, shaking the pan and stirring the mushrooms. Let it cook for about 3 minutes; then add the chicken stock, the thyme and 4 tablespoons of traditional Balsamic Vinegar of Modena PGI. Cover and simmer over low heat for 15 minutes, stirring from time to time.
After 15 minutes, set the chicken aside and cover it with foil. While the chicken rests, continue simmering the sauce, over medium/high heat for about 8 minutes, adding the last ingredient, the butter.
Finally pour the sauce over the chicken and serve it to your guests! Success guaranteed!