Today we propose you another tasty recipe: chicken with Original Balsamic Vinegar of Modena PDO, sweet onions and thyme! A dish which is perfect to use Balsamic Vinegar: give it a try, you won't regret!
Ingredients
Four chicken breasts

3 tablespoons  of flour

3 teaspoons  of 

salt

1/2 teaspoon of 

black pepper

3 teaspoons  of extra virgin 

olive oil

2  

small sweet onions

1 cup  of 

reduced-sodium chicken broth

3 teaspoon of butter

1 tablespoon  of 

thyme 

2 tablespoons of Traditional B

alsamic Vinegar of Modena PDO (Check our on Amazon!)
Procedure
Let's start preparing the main ingredients. First of all remove the skin and the bones from the the chicken breasts. Then chop the thyme and slice the onion finely.
In a bowl combine 3 tablespoons of flour,  ¼ teaspoon of pepper and ½ teaspoon of salt. Now you have to roll the chicken in the mixture, shaking off any excess.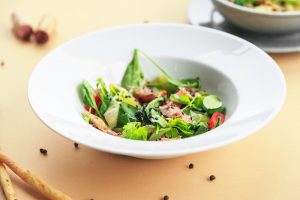 Subsequently, heat the oil in a large pan over medium-high heat; add the chicken and let it cook for 10 minutes, until it has reaches a golden coloring.
After that, add the onions and let them cook until it is lightly browned. Finally add the broth, the thyme finally chopped,  remaining salt and pepper and finally Traditional Balsamic Vinegar of Modena PDO. Bring to the boil and let it cook until the onions are tender, stirring often. This will take about 7 minutes.
After that, remove the pan from heat and stir in the butter until is completely melted. Finally add the sauce on the chicken wiht original Balsamic Vinegar and serve straight away! Your guests will be delighted!
L-Originale Traditional Balsamic Vinegar of Modena: www.l-originale.com
Chicken with original Balsamic Vinegar