The chocolate tart with black black cherries and Traditional Balsamic Vinegar of Modena compote is a delicious dessert that combines the sweet taste of chocolate with the intense flavors of cherries and Vinegar. This dish is a definitely a perfect make-ahead dinner party dessert!
Ingredients for the tart
70 gr of flour
55 gr of rice flour
15 gr of bitter cocoa powder
50 g of powdered sugar
60 grams of butter
1 egg
Ingredients for the stuffing:
compote of  black cherries with Traditional Balsamic Vinegar of Modena
100 gr of dark chocolate
125 gr of cream
50 gr of rice milk
1 egg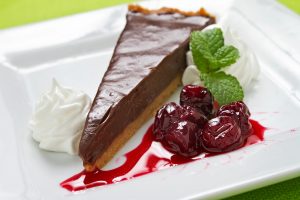 Procedure
First of all, knead all the ingredients and let them rest in the fridge for about half an hour. Meanwhile, bring the milk and the cream to a boil; then add the dark chocolate and let it melt. After that, allow to cool for a few minutes and add the egg.
At this point, put the  dough in a pie pan covered with parching paper  and let the it cook in the oven for 20 minutes at 180 degrees. After 20 minutes, remove it from the oven and stuff it with the compote and the chocolate cream.
Put the chocolate tart in the oven again and let it cook for another half an hour at 180 degrees. The, remove it from the oven and decorate the it with whipped cream. The cream which pairs perfectly with the strong and intense chocolate taste. The chocolate tart is ready! Success guaranteed!
L-Originale Balsamic Vinegar of Modena: www.l-originale.com