Original Balsamic Vinegar of Modena P.G.I. will be absolute protagonist at Cibus, the huge food exhibition that will take place at Parma Fiere from 7 to 10 May.
The black gold of Modena is the most exported among the Made-in -Italy agro-food products. In fact, over 90% of its production is oriented towards international markets. For a few days this precious condiment together with the Consortium for its Protection, will be the absolute protagonist of CIBUS, the most important international show of the food sector.
Some interesting activities are scheduled and they will take place at the Dissapore Cafè stand and at the Institutional stand of the Region Emilia Romagna. The Dissapore Cafè stand will host two moments of sensorial tasting organized by the Consortium for Protection of Traditional Balsamic Vinegar of Modena P.G.I., one for each day of the fair.
On Wednesday May 9th there will be a show cooking by the chef Cristian Broglia that will demonstrate how to use the product in the kitchen. In addition, the storytelling of the Director of the Consortium Federico Desimoni will accompany the whole show.
On Thursday May 10th at the stand of the Emilia Romagna Region, Original Balsamic Vinegar of Modena P.G.I. there will be two moments of recipe demonstration by chef Valerio Cabri, professor at the Serramazzoni Hotel School; at the end of the demonstrations it will be possible to taste the dishes.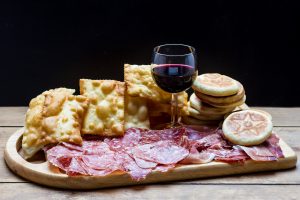 "The presence at the International Exhibition of Cibus Food – underlines Federico Desimoni, the Director of the Consortium – is a crucial moment for the Consortium and for the entire food sector. This occasion is fundamental both for the international visibility that it offers and for the importance of the themes that it will treat through conferences and meetings. Once again, as a consortium representative of the most exported among Made-in-Italy products, we feel honored to present not only its organoleptic characteristics but also  its  history and ancient traditions. As spokesperson for the Consortium – he adds – I want once again highlight the strategic role of this trade exhibition in the food and wine sector, which represents a driving force of development for many of our territories ".
Additionally, on May 9th the Consortium will also participate in the seminar "Block-chain in olive oils and wine vinegars: opportunities and consumer guarantee". The event will take place at 11.00 am at the Mipaaf Stand. The Director will deliver a speech about the possible use of the "blockchain" philosophy within the Balsamic Vinegar of Modena production.
L-Originale Balsamic Vinegar of Modena: www.l-originale.com