De nigris' Traditional Balsamic Vinegar was one of the protagonist of Ciottolando con gusto 2018, the incredible gastronomic event hosted at Melcesine (VR) from 22nd to 23rd of September. Food lovers had the chance to participate to a real "Balsamic Experience" that delighted their palates, leaving them without breath.
The Nigris Group,  one of the largest producers and exporters of Balsamic Vinegar of Modena IGP in the world has actively participated to the event. In fact, the true ambassador of Made-in-Italy had its own space inside the first courtyard of the Scaliger castle. Here visitors had the chance to taste a wide range of De Nigris products based on this precious condiment; furthermore they had the chance to experiment Balsamic Vinegar with particular and unuseful taste combinations.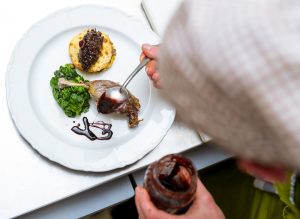 However, the "Balsamic Experience" does not end in Melcesine (VR): visitors can complete this culinary journey with a visit to De Nigris' Balsamico Village. In fact, the balsamic village is the first theme park dedicated to a P.G.I. product; the park consists of over 40,000 square meters and it is located in the countryside between Carpi and Correggio, in the province of Modena. It is along a path in the green that follows the life of Original Balsamic Vinegar of Modena, from the grapes to the bottling; moreover it boasts an Balsamic Vinegar cellar for over 8 million liters of Vinegar IGP. Visiting Balsamico village is the best way to complete the extraordinary experience dedicated to the Italian culinary excellencies discovered at Ciottolando con gusto 2018. We highly recommend the experience!
L-Originale Balsamic Vinegar of Modena: www.l-originale.com