The Consortium for the Protection of Traditional Balsamic Vinegar of Modena PGI presented last night its new headquarter; for the occasion, it held a thematic conference in Palazzo Fontanelli in via Ganaceto 113 in Modena. Some of its members, authorities and the  press took part to the event.
The event saw numerous guests: among them, the vice president of Chamber of Commerce of Modena Gian Carlo Cerchiari, the Mayor of Modena Gian Carlo Muzzarelli, the Director of the Qualivita Foundation Mauro Rosati, the President of AICIG Cesare Baldrighi and the counselor of Emilia-Romagna Region's agriculture Simona Caselli; she underlined the importance of innovation and identity for the area of Modena, where agri-food is the driving force of the economy.
Furthermore, she added: «We are a region with 44 denominations (PGI, DOP…); this is a European record and the result of a very strong work of protection of products that are the outcome of ancient traditions. In this context, it is important to guarantee the conditions to be competitive. This can be done through investments in innovation, still preserving the traditional component in the knowledge handed down over time». Afterwards, Councilor Caselli praised the cohesion among the Consortium members, that led to the achievement of many objectives. One of them is the certainly the new headquarter.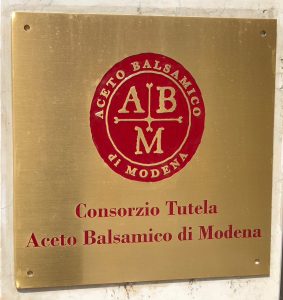 The President of the Consortium of Balsamic Vinegar PGI, Mariangela Grosoli, agreed. « The new headquarter in Palazzo Fontanelli, in front of the headquarters of the Chamber of Commerce hosted by Palazzo Molza, is a sign of the desire to consolidate the link between city and territory. Moreover, this is a strategic operation dictated by the increasingly close cohesion between the members for a further growth both in the Consortium and in the Italian quality agro-food segment with an economic value of over one billion euros. All this generates thousands of jobs and is the example of an entrepreneurial Italy based on tradition; a country that was able to create a system and looks to the future with confidence».
The event of last night was also an opportunity to reflect and analyze the performance of the production sector, more generally, of the sector of Italian PDO and PGI products. The Director of the Consortium Federico Desimoni  added: « The main issue addressed was that of the strategies for the enhancement of this production within a market that seeks to turn into commodities also the products of ancient Italian tradition. Therefore, our goal is to identify new strategies that help to recognize not only the  value of products, but also of the work, the history, tradition, territory and culture behind it. In fact, these are all elements that make these products  inimitable and cherished all over the world ".
L-Originale Balsamic Vinegar of Modena: www.l-originale.com