Crédit Agricole and Balsamic Agreement
The agreement between Crédit Agricole Italia and the Balsamic Vinegar Protection Consortium is recent. One of the main objectives is the development of access to credit for companies belonging to the Balsamic Vinegar Protection Consortium.
It consolidates the new collaboration. Born between the two entities, with the aim of allowing the companies associated with the consortium to use the so-called revolving pledge. The agreement was signed by the president of the Protection Consortium, Mariangela Grosoli, and by the Parma-Emilia east regional director of Crédit Agricole Italia, Maurizio Crepaldi.
What is the revolving pledge?
According to the Civil Code. The pledge constitutes the delivery to the creditor of the thing (or document). It confers the exclusive availability of the thing itself. The debtor, with the pledge, loses possession of the thing given as security while the creditor can dispose of it in the event of default by the debtor. The Revolving Pledge is a type of pledge that allows the debtor, upon notification to the creditor, to replace the assets originally given as a guarantee, with others of equal value.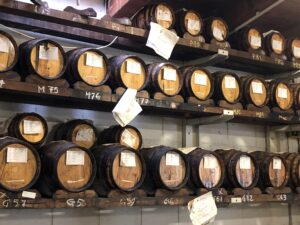 How it works for vinegar producers
In the case of the agreement between Crédit Agricole Italia and the Consortium for the Protection of Balsamic Vinegar, the goal is to achieve a consolidation. This is not only of the production fabric of the Black Gold of Modena but also of the local fabric. In other words, the agreement aims at the development and consolidation of commercial relationships with the supported companies.

From now on, the Bank will be able to initiate, with the necessary guarantees, credit lines to generate liquidity. Thanks to the possibility of pledging stocks with Balsamic Vinegar Producers. In other words, the Members of the Balsamic Vinegar Protection Consortium can make use of financing products and services at advantageous condition. This is because of the possibility of providing guarantees to the Bank, in the form of a revolving pledge.
Maurizio Crepaldi stated: "We believe that the revolving pledge favours better financial management. Represents a particularly suitable solution for those who produce foods that complete their production cycle through ageing or maturing processes. This agreement stimulates the demand for credit to meet the needs of producers. Furthermore, it represents an important moment in the relationship between the bank, the companies and the territory. It testifies to a concrete dialogue and the ability to identify shared solutions for real needs"
Greetings from Modena