Davide's passion for Balsamic. We have the pleasure to meet Davide and he told the story about how Balsamic and its production methods conquered him. It was a very exciting meeting for us.
Our first question was: "Davide, would you like to tell us how your passion for Traditional Balsamic was born?"
Davide explained to us that he start knowing more about the Traditional Balsamic Vinegar twenty years ago thanks to his brother-in-law. His brother-in-law is the owner of the Villa La Regina del Bosco Restaurant in Bosco Della Saliceta di Camposanto (Modena). One time he went to his vinegar factory and tried his products. Davide was immediately impressed.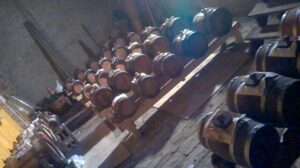 Davide's passion for Balsamic: it was love at first sight!
Davide continued explaining to us that he fell in love with the scent that hovered in the attic of his brother-in-low. He also was fascinated by the barrels of different sizes positioned on the "Calastra" (wooden structure made up of shaped wooden beams on which the barrels that compone the battery are placed) and by the taste of this black gold.
Davide decided to have his battery. He bought five wooden barrels of oak. The year after, he also bought his second battery consisting of barrels of different woods: mulberry, cherry, walnut, oak and chestnut.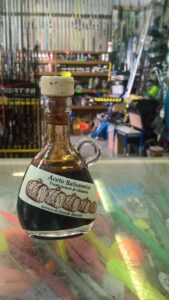 The more he knew about the Traditional Balsamic world, the more he was delighted. He was fascinated by the production process and its rituals. Davide affirmed that he always does all operation (such as buying Lambrusco or Trebbiano grapes, crushing them, cooking the must for hours, waiting for the fermentation, decanting and adding the product) with pleasure and joy.
Davide loves to dedicate time to these gestures handed down from generation to generation.
Recently, he felt the need to follow his passion by increasing the number of batteries. He has got 11 batteries now.
He uses the vinegar made form his barrels with family and relatives. Sometimes he gives to his closest friends at Christmas also.
We remind you that to obtain a good product and to call it Traditional Balsamic Vinegar, you have to wait 12 years at least and 25 years for an excellent product.
Davide wants to highlight that his passion is beautiful. We agree with him.
We would like to thank Davide for telling us his story and tasting his excellent products.
See you in the next story.
Greetings from Modena.