If you always choose to serve chicken but you are running out of ideas, this is a recipe that you must try! Chicken drumsticks with honey and Balsamic Vinegar! A triumph of sweet and sour flavors, thanks to honey and original Balsamic Vinegar. The result will not disappoint your expectations, the drumsticks keep their typical crisp texture on the outside, while they maintain all the tenderness of the meat on the inside, all wrapped in a creamy sauce intensely aromatic!
Ingredients:
6 pieces of drumsticks
salt q.s.
black pepper q.s.
30 g of olive oil
100g of water
4 slices of  a lemon
sesame seed q.s.
chives q.s.
1 hot pepper
Ingredients for the honey sauce:
80 g of chestnut honey
20 g of Balsamic Vinegar
40 g of lemon juice
half a teaspoon of hot chili powder
fresh ginger q.s.
Preparation:
To prepare the chicken drumsticks with honey and Balsamic Vinegar, first of all,take your drumsticks, make sure that there are no residues of feathers, otherwise burn them over the flame and then wash the drumsticks under running water. Furthermore, dry the meat with a kitchen towel and place it on the chopping board, then season with fine salt and black pepper on both sides. Now pour the olive oil into a pan.
Let it warm and then lay the chicken drumsticks that will brown over moderate heat for 2-3 minutes. In the meantime peel the fresh ginger and grate it, then turn the spindles with a kitchen pliers and continue cooking for another 2-3 minutes, so that they brown on both sides.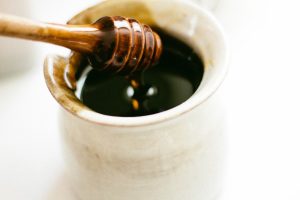 Meanwhile, take care of the sauce: pour in the honey, lemon juice, use Balsamic Vinegar for the mix too, the chili powder and in addition, the grated ginger. Hence, mix the mixture with a teaspoon.
Once the drumstick is golden, pour the mixture over little by little with a spoon. Then add water at room temperature, cover with lid.
Continue cooking over low heat for 25 minutes, turning the thighs from time to time. After the indicated time remove the lid and continue to cook the castings so as to thicken the sauce, it will take about 3-4 minutes. Meanwhile, remove the fresh chili pepper from the seeds and then cut into small slices, cut into slices the lemon.
Once the sauce has reduced, turn off the fire and dress with sesame seeds, chopped chives, slices of lemon and fresh chili, finally your chicken drumsticks are well warm, ready to eat!
L-Originale Traditional Balsamic Vinegar of Modena: www.l-originale.com