Foster Made in Italy through Balsamic Vinegar. The Group De Nigris-Acetifici is determined to extend abroad both Italian quality and Italian taste. UniCredit shows support and collaboration. Keep on reading to find out all the details!
De Nigris-Acetifici is a Group located in Carpi, whose main goal is to foster Made in Italy. They want to promote it through typical Italian products that represent the Italian territory and important traditions. The most appreciated products are condiments such as Traditional Balsamic Vinegar of Modena. They are, in fact, fundamental symbols of Italian taste and creativity.
The Group received the support of UniCredit. This is an important representation of a collaboration between a private enterprise and the banking system. UniCredit, in fact, accompanied the admission of De Nigris-Acetifici to "Elite" Project. This is an initiative of the Italian Stock Exchange (Borsa Italiana) aimed at enterprises in order to improve their relations with the banking and entrepreneurial systems. Moreover, the project supports enterprises in their development and launch in foreign markets, bringing them closer to capital markets. UniCredit has also supplied a new credit line for the development of the enterprises belonging to De Nigris Group.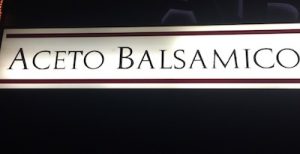 The financed projects foresee investments for a new filtration system and wood vats. In addition, they foresee a development in the new range of products, in particular for sauces and condiments. De Nigris wants, in fact, to face the increase of sales concerning aged balsamic vinegar. This derives especially from the growth and development strategies of foreign markets.
De Nigris Group has a turnover of 80 million euros in 2017 and it produces almost 22% of the domestic market. Thanks to the Group's growth strategies, there will probably be a development of 30 units in the following 3 years.
To sum up, De Nigris Group is committed to foster Made in Italy through Balsamic Vinegar especially, in order to let the world know what Italian quality is.
L-Originale Balsamic Vinegar of Modena: www.l-originale.com