Our green sauce with Original Balsamic Vinegar is excellent to accompany boiled beef but also other types of meat; its preparation is very easy and will add extra taste to your meat-based dishes. Keep on reading to discover its recipe!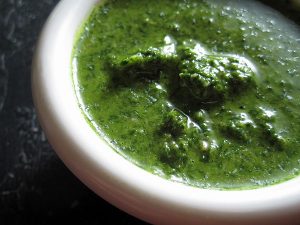 Ingredients
100 gr of Parsley
4 cloves of Garlic
20 gr of Breadcrumbs
1/2 teaspoon of Sugar
30 gr of butter
2 spoons of Original Balsamic Vinegar of Modena
2 pinches of salt
3 tablespoon of extra-virgin olive oil
Procedure
Peel and wash carefully the parsley; then chop it finely into small pieces. Do the same with the garlic. After that, put the parsley and the garlic in a saucepan with the butter and the olive oil; now let them dry  with the liquefied butter.
After 10 minutes, raise the heat, add a tablespoon of breadcrumbs and cook for other 5 minutes, stirring from time to time; then add 3 tablespoons of Original Balsamic vinegar, 1/2 teaspoon of sugar and 2 pinches of salt.
Turn off  the stove and stir again; finally leave the sauce to cool and add one last spoon of oil.
Another way to use Balsamic Vinegar that will delight your guests! Try it and let us know in the comments down below!
L-Originale Balsamic Vinegar of Modena: www.l-originale.com