Today we remind you another event dedicated to the food and wine excellencies of the territory: the  third edition of Gusti a Mo18 that will take place on September 28 and 29. The event is organized by Piacere Modena with the patronage of the Province of Modena, the Chamber of Commerce of Modena and of the Emilia Romagna Region. The central theme of this edition will be "speed" understood as the time of thinking, creating and producing!
During these two days guests will have the chance to discover the geographical and historical origins of the products coming from the so called Emilia Romagna's food valley. How? Through tasting and guided tours at the premises of the producers.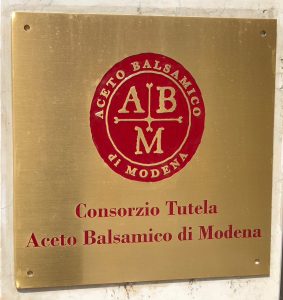 All the main consortiums of the area will join the program: the Consortium for the Protection of Traditional Balsamic Vinegar of Modena PDO, the Parmigiano Reggiano Cheese Consortium DOP, the Consortium of Modena PDO, the Consorzio Tutela del Lambrusco of Modena PDO, the Historical Brand Consortium of Lambrusco Modenesi PDO, the Consortium for the Protection of Balsamic Vinegar of Modena PGI and many other.
On Saturday 29 the producers members of the different Consortiums will open their gates to the the general public; guests will have the chance to participate to tasting experiences. Moreover, square XX Settembre will host workshops for children and families. In the same place, there will be also tastings dramatized by the Koiné Theater Company and a theatrical pièce on the Duomo of Modena. Furthemore, the square will also host a tasting of the tortellini of Castelfranco Emilia organized by the Association La San Nicola. Finally, in the evening there will be an aperitif with the chef Daniele Reponi, accompanied by the rock blues sounds of the band Sould Out and of Simone Galassi.
Finally, Gusti a Mo18 is also part of the project "Il Coupon del Gusto": the coupon allows you to discover and enjoy at low prices the typical gastronomic products of Modena; you will receive the coupon when buying a ticket for access to the Unesco site and to the Ghirlandina tower.(www.visitmodena.it/it/coupon-del-gusto).
For further Information please check the website www.gustiamodena.it, call Modenatur at the 059 220022.
L-Originale Balsamic Vinegar of Modena: www.l-originale.com