Le strade della mozzarella (The streets of mozzarella) is a two-days event dedicated to mozzarella, the Italian white gold. Participants had the opportunity to discover "La Cucina dell'Acidità" (The kitchen of acidity), a mix of flavors capable of surprising the finest palates.
The famous buffalo mozzarella met Traditional Balsamic Vinegar on the occasion of Le Strade della Mozzarella, the event held on May 23rd and 24th at the Savoy Beach Hotel, in the city of Capaccio (region Campania). Four top chefs paired  mozzarella with a wide range of Balsamic Vinegars produced by De Nigris.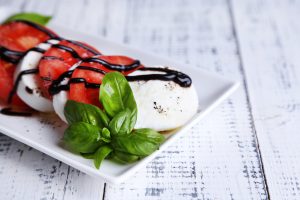 Guests had the chance to compare the various degrees of aging and must content of Balsamic Vinegars of Modena PGI; they could taste different fruity Vinegars and the unique Balsamic Vinegar pearls. Furthermore they had the chance to taste some top-quality products such as the precious Traditional Balsamic Vinegar DOP.
The first meeting was on May 23rd with the chef Luigi Salomone who was able to revisit the culinary tradition of his home-town Castellammare di Stabia through marked contrasts and oriental influences. Then another Top-chef, Pasquale Palamaro, resident of the exclusive Hotel of queen Isabella, married Original Balsamic Vinegar with the flavors of the isle of Ischia.
Then, on May 24th it was the turn of Sakai Fumiko, a chef coming from Japan, but working since 15 years in the town of Vico Equense in charge of the kitchen of the Bikini restaurant. Famous for mixing the cuisine of his native country with the flavors of Campania he used not only Traditional Balsamic Vinegars, but also the only rice Vinegar produced in Italy, the one produced by De Nigris.
Last but not least, there was the show-cooking of Salvatore La Ragione, star chef of the restaurant Mammà, near Capri. His kitchen was a tasty combination of Vinegar, Mozzarella and Mediterranean fragrances.
L-Originale Balsamic Vinegar of Modena: www.l-originale.com