Palio dell'aceto 2021 edition
Dear friends! The 2021 edition of the Vinegar palio is back again this year. It is the 55th Palio and involved almost 1500 participants!
In recent months, numerous Acetaie (places where Balsamic vinegar is created) have delivered a sample of their best Traditional Balsamic Vinegar to the "Consorteria di Spilamberto", officially entering the competition. The time has come to find out who will be the winner!
When and where
On Saturday 26 June starting from 6.15 pm, the best Traditional Balsamic Vinegar will be awarded at the Consorteria di Spilamberto (Modena). This is the 55th Palio dell'aceto, 2021 edition. The award ceremony will also be broadcast live on the TRC channel (digital terrestrial channel 11 and 15).
A "Virtual Palio"
This year's selection process took place electronically. In fact, there is talk of the so-called "virtual tasting tables". Masters and Tasters evaluated, from their own home, more than 16 thousand test tubes of Traditional Balsamic Vinegar samples!
It was a real innovation for the Consorteria, which had already had to "readjust" last year due to COVID19: computers and video calls have taken the place of traditional tastings around a table, full of vinegar tubes.
In numbers, the organization and tastings required about 300 employees (including Masters, Tasters and Students), 40 senior volunteers (called "the company of the test tube") and 6 junior volunteers (called "tablet teams", in charge of helping on IT side). All for more than 800 hours in total!
In short, technology has made this edition of the Palio possible, which would otherwise have been hampered on many fronts. The results of the selections were (and will be) delivered to the participants electronically, through a special platform. In these days, the processing of individual evaluations takes place to determine the semi-finalists.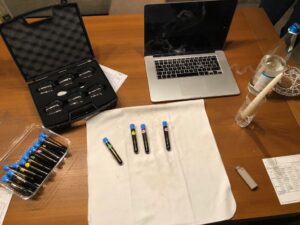 Who participates
Despite the Covid-19 pandemic and the various restrictions of the case, 1,456 Acetaie in the Modena area participated in the 2021 edition of the Palio dell'aceto. This is about 500 more Acetaie than last year. The Grand Master Maurizio Fini commented, "it is an extraordinary result, a real declaration of love for this excellent product, but also a certificate of trust in the Consortium".
So don't make commitments friends! On June 26, the 2021 edition of the vinegar palio awaits us!
Greetings from Modena