We know what you are thinking: Parmesan ice cream? What is it? It may sound strange, but actually it is very delicious. Especially relevant, here in Emilia Romagna we are good in making ice cream too! And don't forget that the use of Balsamic Vinegar makes everything tastier. So why don't you try this odd, but great recipe, to amaze your guests?
Ingredients for 4 people:
4 yolks
260 gr of sugar
250 ml of fresh cream
250 ml of milk
1/2 tablespoon of corn starch
200 gr of Strawberries
50 gr of sugar
Original Balsamic Vinegar
Preparation:
I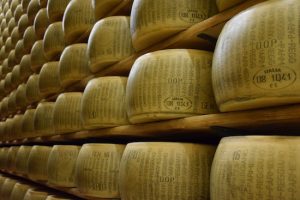 n a saucepan, add the corn starch and 130 grams of sugar to the milk and bring almost to the boiling point, dissolving the sugar well. Furthermore, add the grated Parmesan cheese, mix and leave to cool.
Meanwhile, beat the egg yolks with 130 grams of sugar and add the milk. Pour the cream and mix everything. Hence, let it to cool and put in the freezer for 6/8 hours, stirring occasionally with a whisk.
Finally, wash the strawberries, cut them in half and with the remaining 50 g of sugar and toss them in the pan for a few minutes over a high heat. In conclusion, serve a small scoop of Parmesan ice cream and strawberries in a glass and garnish with Balsamic Vinegar.
L-Originale Balsamic Vinegar of Modena: www.l-originale.com