A Balsamic Vinegar worth of competition: today we want to talk about the story of Oliver, the third interviewed for our new  section.This is not a story as the others we have already told, in fact it takes place in Switzerland! We know that it may sounds strange, but we can promise you that his Balsamic Vinegar can stand up to comparison to the Original Balsamic Vinegar produced in Modena!
Why has a Swiss decided to have his personal Balsamic Vinegar loft?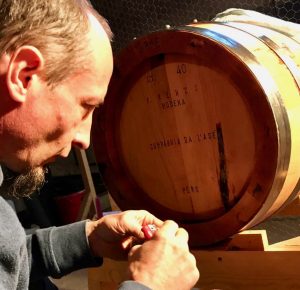 It has all started when I was in Modena and I had a taste of the traditional Balsamic Vinegar of Modena, in that moment I understood that it had nothing to do with all the vinegar I have tried before, I immediately fell in love with it. Therefore, the passion born for this precious product has gone well beyond the borders and has landed in the green Switzerland, where a group of friends has decided to start independently a battery of barrels to produce and use Balsamic Vinegar according to the Modena tradition.
With the passing of time, I was more and more fond of this product; as I was learning more about its production and more I wanted to have my personal Balsamic Vinegar cellar. I was already dreaming of my Balsamic Vinegar barrels and of the smell of the evaporating must.
When did you decide to have your personal Balsamic Vinegar cellar?
It all started when I was tired of waiting for the chance to take part in a similar adventure, born from another group of Swiss friends who, for the same passion, created their Balsamic Vinegar cellar in Switzerland. It seemed that for a long time they wanted me to participate, but then there was the time to talk about my affiliation, they were never clear about how much was the fee to join.
After a couple of years of waiting I was tired of not being able to be an active part of that fantastic world, so I decided to go to Modena and I visited some producers of barrels and vinegar.
After this trip I became even more curious about the tradition of Balsamic Vinegar and after some research in a few months my desire to have "my" personal Balsamic Vinegar cellar was reality and in a few times it became "our" cellar, because together with three other friends of mine (Iacopo, Omar and Dario) we have created our "cumpagnia da l'aséd" (the fellowship of the vinegar) and it seems like that in a few years we are going to have our Balsamic Vinegar.
What are the steps you made to start your "cumpagnia da l'aséd"?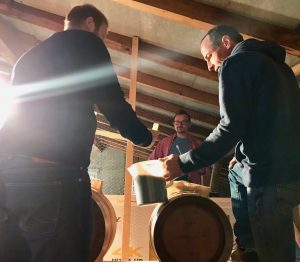 As I said before I collected some information for several months, I visited some vinegar producers and master coopers in the Modena, then I studied the methods and techniques until they came to understand with which method, which woods and which vinegar would have been fantastic to make my personal Balsamic Vinegar. I bought at the beginning a battery of 6 different barrels of wood produced by "Renzi" (considered the best master cooper in Modena). Then over the years we have been able to see the cellar growing and expanding until today's state; two final barrels of 10 litres in cherry and juniper, seven mixed barrels from 13 to 50 litres and a tenth to serve as barrel mother of 225 litres. In total, the woods are now the best tradition: oak, chestnut, locust tree, pear wood, mulberry, cherry and juniper.
Naturally all the tools, form the vinegar to the barrels, are from Modena and its neighborhood. In addition, every year we go to Modena to buy the vinegar (that has to be strictly of Trebbiano of Spagna) for the pouring process and also to hang out with our friends from Modena that have seen our Personal Balsamic Vinegar cellar begin and develop
What are the differences between your Balsamic Vinegar and the one usually produced in Modena?
The geographical location? (laughing) Joking aside, we are very enthusiast about our results and what is going to expect. Of course, our personal Balsamic Vinegar doesn't have the ideal acidity according to the ABTM Consortium, but this won't last long, because it all depends on short aging process and because we have done not so much collection of the product. But, I'd give a wrong statement if I say that is not a vinegar worthy of our tradition, indeed it's almost… a Balsamic Vinegar worth of competition!
L-Originale Traditional Balsamic Vinegar of Modena: www.l-originale.com