Today we propose you a very special recipe of our culinary traditition: "Piccatina alla Pavarotti" with Original Balsamic Vinegar of Modena. As its name suggests, this recipe was inspired by the extraordinary tenor of Modena Luciano Pavarotti.
Pavarotti used to say: «Usually the preparation of this recipe takes me about an hour, which is the time necessary to detach myself mentally from the symphonies of the melodrama and devote myself actively to other equally rewarding simphonies, that of the kitchen. If I have enough time, I prepare as a side dish some fried egetables, for example zucchini, peppers and aubergines».
Ingredients for 4 people 
850 gr. of knuckle
100 gr. of butter
50g of raw ham of Modena
25 gr. of minced parsley
3 tablespoons of Original Balsamic Vinegar of Modena
Flour q.s.
Salt q.s.
Pepper  q.s.
Procedure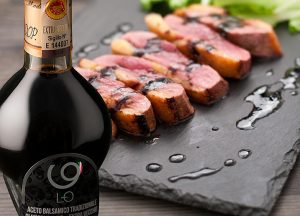 Let's start the preparation of the Piccatina, by lightly flatten the slices of veal with the help of a  meat mallet; then season them with salt, pepper and flour. Now fry 80 gr. of butter in a pan; arrange, well aligned, the slices of meat in the pan with the butter and let them brown on both sides over high heat.
After that, drain them and arrange them well in a serving dish, taking care to keep the cooking juices in the pan. At this point, add the remaining butter to the cooking juices; then add the strips of ham and leave to brown for a while; finally add 3 tablespoons of  Traditional Balsamic Vinegar of Modena.
Now you can pour the sauce on the meat. Finally sprinkle it with finely chopped parsley and serve when it is still warm. Buon appetito!
L-Originale Balsamic Vinegar of Modena: www.l-originale.com