Not always by saying healthy food, we mean something greenish and without flavour. This is not our reality. The following recipe is the best way to combine the both. In fact, our Puff pastry with original balsamic vinegar, eggplant, apples and onion is pure gold.
Enjoy the recipe!
Ingredients for 10 people: puff pastry 1 kg., eggplants 6, sesame seeds, red onions 6, apples, mint leaves, salt, pepper, EVO oil, sugar, honey and balsamic vinegar.
Preparation:
Let's start by preparing the balsamic vinegar reduction and boil the honey, the balsamic vinegar original IGP and sugar until you the wished consistency.
Cut the eggplants and put them in the oven at 180° for 20 minutes.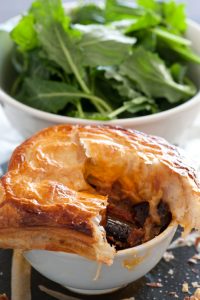 Roll the puff pastry, poke holes in it and sprinkle the sesame seeds and cut it in rectancular pieces. Put them in the oven for 12 minutes at 200°. Rember to put a weight on the pieces to keep them flat while they cook.
Wait for the eggplants to cool down then mix them in a blender with the EVO oil, the mint leaves, salt and pepper.
Boil the onion for a couple of minutes and cool them in ice. When they are cold dress them as you wish.
Now you are ready to set the plat. Put one piece of pastry, dress it with the eggplant sauce and put a piece of onion on it.
After reading this recipe we are sure that you are definitely mouthwatering. So, tell us what you think about our Puff pastry with original balsamic vinegar eggplant, apples and onion!
L-Originale Balsamic Vinegar of Modena: www.l-originale.com