Pumpkin Flower Risotto with Balsamic. This plate will be enriched with Gioielli di Balsamico. It will not leave you indifferent.
This recipe will allow you to create a fragrant and colourful first course that with its rich flavours will amaze your guests.
Time of realization: 30 minutes
Difficulty: easy to prepare
The pumpkin flowers, typical of the spring season are ideal for making dishes with a delicate taste.
In this occasion, the risotto will be enhanced by the unique flavour of the Gioielli di Balsamico.
Ingredients for 4 people
360 g of Carnaroli rice
3 zucchini (medium-sized)
8 or 10 pumpkin flowers
Extra Virgin Olive Oil
1 white onion
a glass of white wine
one sachet of saffron
1 litre of vegetable broth
80 g of grated Parmigiano Reggiano cheese
Gioielli di Balsamico
smoked horse frays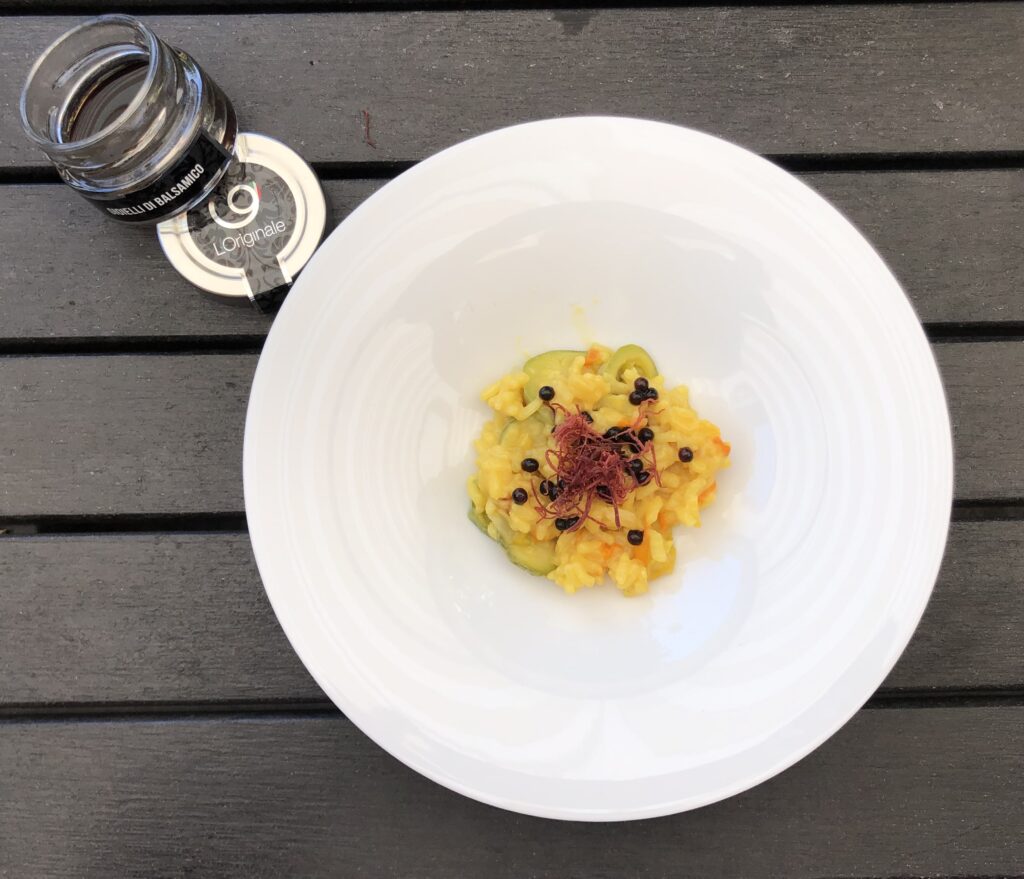 Preparation of Pumpkin Flower Risotto with Balsamic
You will need two casseroles (large pots). In the first one, we will prepare the broth that we will use in the other pot for cooking rice.
Wash the zucchini and cut them into slices.
After cleaning the pumpkin flower, remove the pistil (if cooked will make the dish bitter), and make thin strips.
Fry the finely chopped onion with a little oil and once it has dried, add the glass of white wine and the rice. Let it toast for a few minutes.
Start cooking the rice by adding a couple of ladles of broth and sliced zucchini.
It is important to continue cooking by mixing the rice and adding a ladle of hot broth at a time.
When the cooking is almost completed, add pumpkin flowers and saffron.
Once cooked add the Parmigiano cheese and stir in the risotto until it becomes creamy. Turn off the heat and leave it to rest for a few minutes.
At this point add the Gioielli di Balsamico and the smoked horse frays.
The risotto is ready to be served.
Enjoy your meal!
Greetings from Modena.