When the holidays are coming one of the main problems is what to prepare to eat. Quick Starter: Mortadella Mozzarella Balsamic Vinegar and pistachio grain can be the perfect solution. This is the reason why I am sharing with you this simple and tasty starter today.
Try to make this starter, you will enjoy it. This is another easy recipe from our dear friend Maria Cucina. You only need five minutes to prepare this quick starter. It is something different from the usual proposals.
The Gioielli di Balsamico come together with special foods. The result is a delicious meal.
The "Balsamico" is a typical Modenese product together with the queen of the Bolognese cuisine the "Mortadella" and with one of the most well-known cheese from the South of Italy the "Mozzarella". This starter is enriched by the pistachio grain. It will amaze the most demanding palates and you will be satisfied.
Click the following link to watch the video form Maria Cucina's channel on YouTube https://bit.ly/2CozHNu
Ingredient for two people:
two slices of Mortadella PGI from Bologna
a half of Mozzarella cheese (if you prefer, use the buffalo Mozzarella)
4 or 5 Gioielli di Balsamico pearls
pistachio grain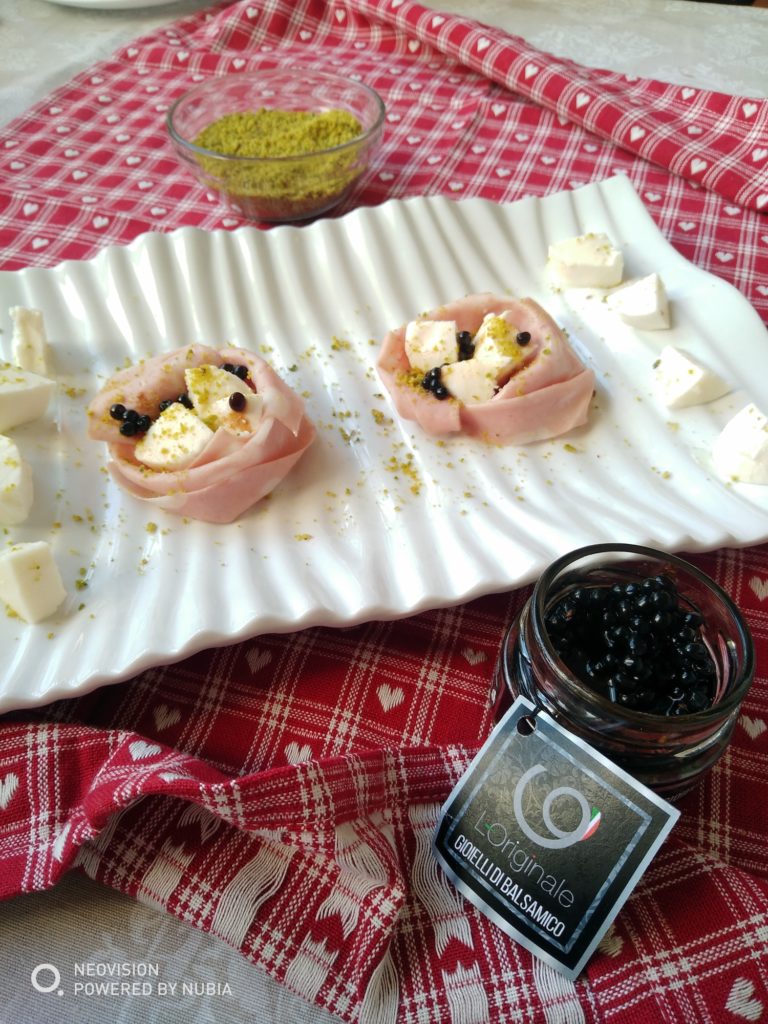 How to prepare Quick Starter:
Put the slices of Mortadella on a plate trying to imitate a rose shape.
Cut the Mozzarella cheese in cubes and put them in the centre of the Mortadella rose.
Add the Gioielli di Balsamico pearls on the top of the Mortadella rose that you have prepared before.
Then use the pistachio grain to decorate the plate.
Remember to use Traditional Balsamic Vinegar DOP from Modena only raw, in reverse the Balsamic Vinegar IGP can be used in a pan during the cooking of food.
The started is ready. Serve it to your guests.
Stay tuned on our Blog to find out more Maria Cucina's recipes.
Enjoy your meal.
Greetings from Modena.