Rocca Rangoni (the fortress of Rangoni) is a place where history and gastronomic tradition meet each other. Most noteworthy is that the Rangoni marquises has owned the fortress for 650 years, later in 2005 the town of Spilamberto bought it. As a result, in 2011 some renovation works started, hence the courtyard of honour had its former beauty back. Here now the "Corte del Gusto" (Court of taste) takes place. Hence, it is a place whose aim is to give value to the food and wine excellencies.
The Rocca Rangoni stands on a garrison built by the Municipality of Modena in 1210. Since its aim was to control the border of Bologna and the course of the Panaro. The noble Rangoni made the quadrilateral layout with corner towers built, after that Aldobrandino d'Este granted the castle to family. From 1650 to 1960 the fortress transformed into a "Enchenting Palace"; since the richness of its furnishings and paintings inside, outside and in the courtyard.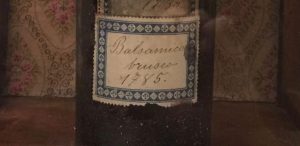 The proximity of the fortress to the hills and the river Panaro makes it a place of delights and sumptuous festivals. In the 18th century a balcony will soften the entrance tower, while the side towards the Panaro river will maintain the castle appearance with battlements and embrasures. In May 2007, the Rocca Rangoni became the new home of the Museum of Traditional Balsamic Vinegar in Spilamberto.
The Association "Museo del Balsamico Tradizionale"(Museum of Traditional Original Balsamic Vinegar) manages the Fortress nowadays. It is the ideal venue for prestigious events, exhibitions, weddings, refined banquets and initiatives linked to traditions and culture in general, with particular attention to food and wine.
Especially relevant in the Rocca Rangoni is the demonstration workshop where enthusiasts and interested parties can participate in the ritual of tasting vinegar and see how to use Balsamic Vinegar, while school classes or simply curious, can attend courses and workshops organized by the Consorteria.
L-Originale Traditional Balsamic Vinegar of Modena: www.l-originale.com