Salmon canapes with Balsamic Vinegar Pearls. Are you looking for a recipe for a different and easy-to-make appetizer? This recipe will satisfy and whet the palates of your guests.
You will be able to present a colourful, tasty and surprising finger food in a short time and with simple steps.
The unique taste of Balsamic Vinegar of Modena will give the unmistakable final touch enhancing the result.
Salmon canape is a perfect innovative appetizer. It is inviting, colourful and tasty.
Balsamic Pearls are the fruit of the molecular cuisine, small glucose spheres containing Balsamic Vinegar of Modena with a caviar-like appearance. Balsamic Pearls are treasures of pleasure that release an explosion of flavours.
This product will allow you to propose the flavours of Modenese tradition. Their sweet and sour taste goes divinely with salmon. The possibilities for combinations are truly endless.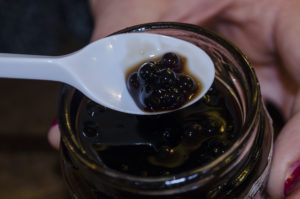 Ingredients:
toast bread
butter
white onion
sliced salmon
Pearls of Balsamic Vinegar
chives
Preparation:
Lightly toast the slices of bread until they have slightly changed colour and taken on a slight crunch.
Taking care not to crumble cut the slices of toast into four parts.
Spread a soft layer of butter on them and add a little finely chopped white onion a slice of salmon and a few Pearls of Balsamic Vinegar.
Add a small sprig of chives to give an extra touch of colour.
They are ready to be served.
We invite you to take a look at the other exquisite recipes featuring Balsamic Pearls.
LINK https://usebalsamicvinegar.com/quick-starter-mortadella-balsamic-vinegar/
Remember that Balsamic Vinegar of Modena PGI can be used raw as a final condiment for the dish or put in a pan over the flame while cooling food.
Traditional Balsamic Vinegar of Modena PDO must always and only be used raw.
Greetings from Modena.
Salmon canapes with Balsamic Vinegar Pearls.