Salty pancakes with Balsamic Vinegar
A rich and versatile dish… today we prepare savoury pancakes with Balsamic Vinegar, salad, cooked ham and goat cheese! You will lick your moustache!
Loved by everyone, pancakes are often used for breakfast, or as a snack, accompanied by Nutella, jam, ice cream or fruit. Tasty and flavoursome, they have become a famous and savoured recipe all over the world, from adults to children.
Today we want to offer you a different recipe for cooking our pancakes. In fact, no sugar and chocolate but salt, goat cheese and Balsamic Vinegar! Well yes friends, you got it right! Pancakes can also be salty and… they are super delicious!
So here you are, the recipe for salty pancakes with Balsamic Vinegar… 

What is needed:
250 gr flour 00 (if you wish you can also use it wholemeal, or a mixture of the two)

300 ml of semi-skimmed milk

2 large eggs

1 sachet of yeast

1/2 tablespoon of baking soda

30 gr of butter

Salt to taste

Lettuce

2 large tomatoes

200 gr of goat cheese

200 gr of cooked ham

Traditional Balsamic Vinegar of Modena PDO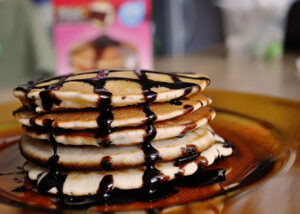 Ready in 5 minutes, the dough can be kept in the fridge for a couple of days. To prepare it, we start by shelling the eggs and dividing the yolk from the white. We assemble these until stiff and put them in the refrigerator. Then, add the milk and melted butter to the egg yolks and mix well with the help of a whisk. The mixture must be homogeneous. We add the flour, baking powder and baking soda and continue to mix until a fluid cream is obtained. We also add a pinch of salt.
Tip!: A good practice is to always mix from the bottom up.
We are ready now to bake pancakes. We put a pan on the fire and let the surface get hot. Brush the bottom with a drizzle of butter and place a ladle of the mixture from our pancakes in the pan. Let it cook until we see bubbles appear on the surface. At this point, turn our pancake over and let it cook for another 2 minutes on the other side.

After cooking, place the salad, goat cheese, cooked ham, tomato slices and a drizzle of Balsamic Vinegar of Modena inside our pancake.
Tip: we suggest you use Traditional Balsamic Vinegar of Modena PDO. Having a higher density, it blends better with the other ingredients and the flavour is enveloping!
Et voilà! In 5 minutes we have prepared a perfect meal for this season, which is starting to get hot and that takes away the desire to spend time in front of the stove! Bring the freshness of pancakes with Balsamic Vinegar to the table!
Greetings from Modena