Today's recipe is really fancy but we know that our readers have a fine palate! So, try our sea bass and salmon rolls with original Balsamic Vinegar and enjoy the gourmet life! This time we are aware that recipe is different from everything we proposed you but sometimes is good the change!
Enjoy!
Ingredients for 4 people: sea bass 400 g., fresh salmon 200g., spinach 10 big leaves, egg white 3, celery flavoured salt to taste, black pepper to taste, caviar 50 g., foie grais (or tofu in case you don't like caviar)
Preparation:
Remove the fishbone from the sea bass, beat it (such as a paillard) then taste it with the salt, the pepper, a drizzle of EVO oil and let it rest, and sit, for 2 hours.
Meanwhile remove the fishbone from the salmon. Pass it through the mixer and then add salt pepper and the egg whites whipped firm.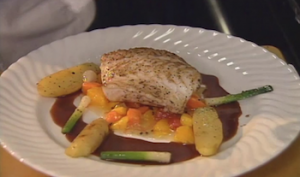 Now you are ready to prepare your sea bass and salmon rolls with bBalsamic Vinegar! Cut a piece of parchment paper for each roll, oil it (to make the rolling easier) and lay the sea bass filett on it. Put the mixed salmon, some spinach leaves and the foie grais (or tofu) cut in strips. Roll it and tie the edges with kitchen string.
Cook in plenty of salty water for 5 minutes. Remove the pan from the fire and wait for the rolls to cool down.
Put the room temperature rolls on a plate and dress them with Traditional Balsamic Vinegar DOP. Use the caviar to decorate.
As we previously told you, this recipe is definitely going to trigger your inner classy self… But sometimes is a good idea to let your fanciness out! And what best way than our sea bass and salmon rolls to do it?
Grab your foie grass, your caviar,  your innate class and give a new meaning to the world: luxury!
L-Originale Traditional Balsamic Vinegar of Modena: www.l-originale.com