Today's recipe is an extremely particular second course that could be served also as appetizer: the seared Tuna with oranges shallot sauce and Traditional Balsamic Vinegar of Modena.
Ingredients for two people:
150 gr of Tuna
1 shallot
1 untreated orange
10 cl of Arneis
20 grams of butter
salt to taste
Traditional Balsamic Vinegar of Modena
chilli pepper
extra virgin olive oil
100 gr of green salad
Pricedure
Prepare the sauce before cooking the tuna: start by chopping the shallot finely; then put it in a small saucepan with high sides, drizzle with extra virgin olive oil and put on the stove with low flame. The shallot will have to sweat for 8 – 10 minutes, until it has become transparent and reddish in color.
At this point deprive the untreated orange of half the peel from which you will obtain the very thin zest that you will add to the shallot. Then raise the flame to the maximum and add the juice obtained from the orange itself and the white wine; bring to boil and add the cold butter. At this point carefully mix the sauce until it has reached a velvety consistency. Finally add salt and a pinch of pepper.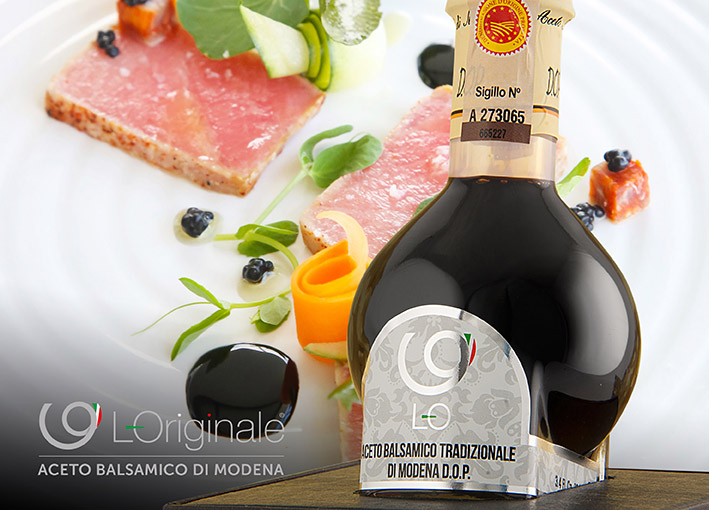 Now it's time to cook the tuna. To obtain a tuna crunchy on the outside and tender and raw on the inside it will be necessary to learn to master the art of browning: the pan must possibly be made of aluminum, the fire must be very high and you have to let the surface warm up almost to the point of smoke. Add the tuna fillets (at least 4-5 cm thick) in the pot, cover with a lid and cook for 2 minutes. Turn the fillets and cook them for another 2 minutes on the opposite side. Remember that the tuna should always be served with the first part cooked upwards.
When the tuna is ready you can serve it whole or slice it. A little bit of sauce, some raw orange zest, some green salad dressed with oil and salt and the dish is almost ready to be served. Only one ingredient is missing: add a few drops of Traditional Balsamic Vinegar of Modena to give a final touch and enjoy the meal!

L-Originale Balsamic Vinegar of Modena: www.l-originale.com