The charm of Original Balsamic Vinegar of Modena passes through its wooden barrels. Here some curiosities about the battery of vinegar's barrels used for its production.
What are the most frequently used woods?
To start a battery it is sufficient a number of barrels that varies from five to seven. The woods generally used for the smaller vinegar's barrels are juniper, oak ad locust, since they are hard woods; while chestnut, ash, cherry and mulberry are woods with a greater porosity. The applewood and the pear-wood are used very rarely, despite the fragrances and flavors they release, because they have a poor seal over the years. Even walnut wood is not common. To the basic barrels must be added the mother cask which usually has a capacity of 200/250 liters. The cost of a set of barrels can range from 1500/2000 euros to 5/6000 euros. In the set of barrels there is a testa (head) and a coda (tail). The head is the biggest barrel (about 75 liters) and  the tail is the smallest one (10-15 liters is the minimum capacity).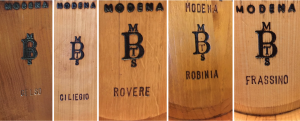 What do I have to do after having bought the battery?
You must wash the barrels with boiling water and coarse salt. Then, fill them with Vinegar to acetate the wood of the set of barrels. After a year you can empty the barrels. Now the woods are ready to host the grape must.
How to prepare the grape must?
In September, after harvest, you have to press the grapes to extract the juice. After resting one night in a large vat, the grape juice must be cooked otherwise it will ferment and become wine. The grape must boil slowly, in order to thicken: the water will evaporate and the the concentration of the sugar will increase.
How long does the cooking last?
You have to be patient since the cooking can last 9/12 hours. At first, the temperature should not exceed 95 degrees; then you'll have to lower the flame to bring the temperature to 80/85 degrees. Cooked must is now ready for the alcoholic fermentation that will turn the sugar into ethyl alcohol. The fermentation takes between six and twenty days, depending on the temperature of the environment. After this time, the fermented must be poured into the mother cask where the fermentation begins. But, we are only at the beginning. You'll have to fill the battery with the must, without ever completely emptying the biggest vinegar's barrel, since every year you will have to perform two important operations: travaso (pouring) and rincalzo (addition).
L-Originale Balsamic Vinegar of Modena: www.l-originale.com