Swarovski Modena and L-Originale. Two excellences meet in the Modena area: Balsamic Vinegar and Swarovski!
Every province in Italy is proud of its gastronomic excellences. From the "Pesto alla genovese" of Genoa to the "Mozzarella di Bufala" of Caserta and Salerno to mention only a few. Italian people are very proud to provide the whole world with the use of local products with recipes that emphasize the great flavors of their land.
In Modena the Balsamic Vinegar is definitely considered the king of the ingredients. It is used raw or cooked all over the world.
People of Modena are proud of their excellence and constantly praise this black gold in various ways. In Spilamberto for example (a town just outside Modena and cradle of the Balsamic), the monument inside a roundabout represents a drop of Vinegar.
In this atmosphere of pride related to the territory, the collaboration between the well-known Swarovski brand, in particular Swarovski Modena and L-Originale company, selector and seller of Balsamic Vinegar, is born.
The result? Traditional Balsamic Vinegar wearing a precious Swarovski suit.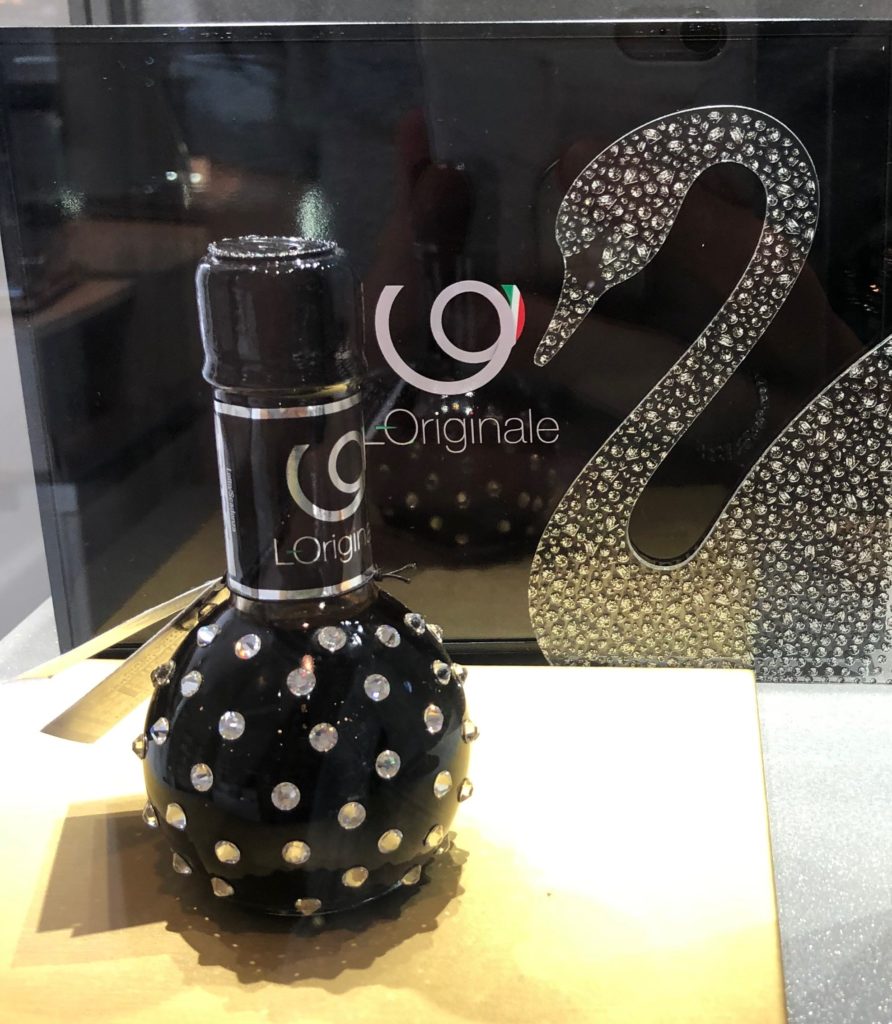 100ml of product from one of the oldest Vinegar lofts of Modena, aged for over 25 years in barrels of different woods and contained in a flask-shaped bottle… covered with certified Swarovski diamonds.
"The idea comes" tell us Andrea Adani, founder of L-Originale, "… from the wish to provide the right and worthy housing to the excellence of our Province. No more simple glass bottles but something … more! We wanted to create a product that combines tradition and elegance, luxury and simplicity. Swarovski Modena appreciate this project and agreed with enthusiasm to collaborate with us by showing the new bottle in its shop window, located a few steps away from the famous Ghirlandina, the symbol and heart of Modena!"
Great achievement for L-Originale, which states "given the positive outcome with Swarovski Modena, we are also getting in touch with Swarovski Bologna. The goal is to spread the black gold in its sparkling new outfit all over the neighboring provinces. Vinegar connoisseurs will love it!"