Massimo Bottura and Balsamic Vinegar
Today we would like to talk about the relationship between Massimo Bottura and Balsamic Vinegar. Italian chef among the first in the world, Massimo Bottura owns a restaurant in the heart of the historic centre of Modena since 1995. Same year in which he also began his production of Balsamic Vinegar…
Always guided by his strong passion for gastronomy, Massimo Bottura opened "Osteria Francescana" in 1995. In here, tradition and evolution blend perfectly making it the best table in the world, according to the World's 50 Best Restaurants, in 2016 and 2018.
The Osteria Francescana is located in the historic centre of Modena. Here, among narrow alleys and the scents of Emilian cuisine, we find a large grey door that contains a world of flavours, enjoyed by diners from all over the world.
In 1995, not only did the Franciscan branch open, but Massimo Bottura and Balsamic Vinegar began their relationship that has continued to this day. In fact, that year, Massimo began producing the family's Balsamic Vinegar under the name of Villa Manodori. It is a tradition of Modena to own a battery of barrels. In particular, tradition says that a battery is formed at the birth of a daughter, which will later constitute her dowry.
Massimo does not escape the tradition and at the birth of his daughter, Alexa, Bottura's grandmother gave the girl a battery of Traditional Balsamic Vinegar. Today this have given life to the production of Villa Manodori.
The relationship between Massimo Bottura and Balsamic Vinegar
The relationship between Massimo Bottura and Balsamic Vinegar is also consolidated with the Master Taster diploma. It was obtained in 2005 at the Consorteria of Spilamberto (MO). Each year this offers courses to aspiring students and master tasters and decrees the best Traditional Balsamic Vinegar of Modena.
Furthermore, Massimo Bottura has always valued this precious ingredient in his dishes. From appetizers to desserts, passing through the main dishes, Balsamic Vinegar, together with Parmigiano Reggiano; has always been the undisputed protagonists at Osteria Francescana.
In December 2020, the book "Il Balsamico-L'Oro Nero di Modena", published by Artioli Editori in 1899; was also presented. It was patronage and support of the Consortium for the Protection of Traditional Balsamic Vinegar of Modena and the Consortium for the Protection of Balsamic Vinegar of Modena PGI. The book is a journey through the history of the precious condiment and pays particular attention to the cultural link with the territory. In the preface, Massimo Bottura talks about the importance of the link between the territory and people with local products: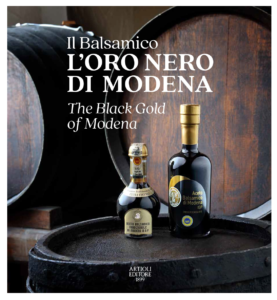 "I think this book is a half miracle, with the ability to look to the future, it sheds light on two different products but both of quality" (referring to Balsamic Vinegar of Modena PGI and Traditional Balsamic Vinegar of Modena PDO). Massimo then continues stating:
"Covid-19 has brought the world to its knees, but the world continues to ask for excellent products. The invitation to return to tourism will be essential to make our territories and places enjoy our products and goodness. Promoting in a united way is a great step forward, which I share. It is a great challenge that we must pursue because the future can only be built together".
Greetings from Modena