"a long journey leading to our traditions."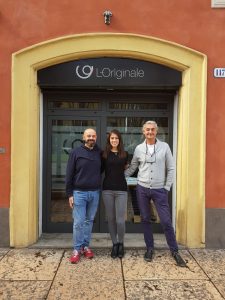 L-Originale is a concept with the taste of excellence at its heart.
A new and exciting journey, using all five senses, into the world of fine food.
Since ever we cultivate our passion for travelling with an open mind, looking for new experiences, new flavours and new cultures.
Physically moving away from our origins makes us even more aware of the richness of the wines and gastronomy products of our territory.
Our project comes from the awareness of how little has been made to promote these delights.
L-Originale selects and deals ONLY premium food.
A continuous search for new emotions, new tastes and new ways that lead back to rediscover the taste of antiques traditions.
Quality is our prime concern, thus we only select the very finest wines and food delicacies from producers who share our passion for excellence and trust our project.
The love and knowledge for fine food in our territory give us the opportunity to dedicate special attention to the category of Balsamic Vinegar of Modena, unique product in the world which select only artisan vinegars, certified P.G.I and P.D.O. aged in wooden casks for decades.
Fragrant and flavoursome, this very special condiment brings out the best in the most different, unusual and difficult culinary pairings. A unique sensory experience. A burst of spontaneous joy for the palate, a sublime Italian flavour. Timeless recipes, traditions that repeat themselves to create this precious condiment, unrivalled protagonist of memorable dishes.