Today we suggest you another healthy and tasty summer dish that can make your veggies less boring: cold omelette with Traditional Balsamic Vinegar of Modena DOP. Keep on reading to discover another tasty recipe!
Ingredients for 4 people:
2 little aubergines
1 onion
1 large courgette
2 peppers (One green and one red)
200 cc. of extra virgin olive oil
1 clove of garlic
1 sprig of basil
6 eggs
2 tomatoes
50 cc. Traditional Balsamic Vinegar of Modena DOP
Salt and Pepper
Procedure:
To prepare the omelette, start by cutting the eggplant into slices without removing the skin vertically; then put the eggplant in a pan with extra virgin olive oil and the large courgette. When the vegetables are slightly colored, remove everything from the stove. Then wrap the cooked vegetables in absorbent paper to remove excess grease.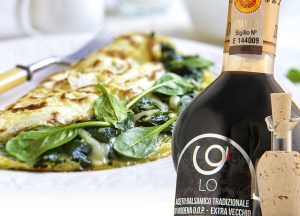 Then dispose the courgette and the aubergines in a bowl in layers. Now cut the green pepper, the red pepper and the onion into little cubes and follow the same procedure you followed for the previous vegetables, taking care to place them on absorbent paper. Then let everything cool.
After that, prepare a bowl with red and green pepper, onion, salt and pepper; then add  the finely chopped basil and garlic, the tomatoes (after having removed the skin by soaking them in hot water) cut into cubes and the eggs. After that, mix everything and add it to the aubergine terrine.
Then cook the omelette in the oven at 80 ° C for 60 ' minutes.  When the omelette is ready, remove it from the oven and allow it to cool for 5/6 hours. When it is cold, unmold it and cut into thin slices. Finally season the omelette with extra virgin olive oil and Traditional Balsamic Vinegar of Modena DOP.
Now, all you have to do is to enjoy this tasty dish! Its success is guaranteed!
L-Originale Balsamic Vinegar of Modena: www.l-originale.com