Balsamic Vinegar of Modena PGI: It is possible to find different kinds of balsamic Vinegars, from the cheapest to the more sophisticated ones.
A distinction should be made in order to identify these kind of products and most importantly, to recognize the ones which are made of the highest quality. In these series of articles we will deal with different types of balsamic Vinegar, their history and how they can be employed in our kitchen.
Balsamic Vinegar of Modena PGI
The balsamic Vinegar of Modena PGI is the one that can be found on the supermarket shelves around the world, with a reasonable price and it is the most famous and used balsamic Vinegar. IGP stands for "protected geographical indication".
Unlike the DOP products, in order to receive this recognition it is sufficient a single feature of distinction and the product must come from only from an area, the so-called "demarcated area", following in any case the rules laid down in the product specification. Therefore, some processing stages can also occur in other areas: for example, the raw materials can also come from countries abroad. The policy of IGP considers for the balsamic vinegar an ageing of at least, 60 years.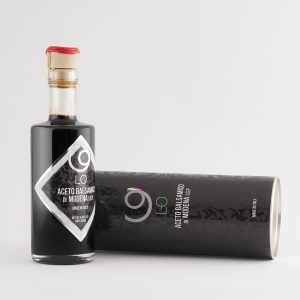 In accordance with the criteria dictated by the IGP label, hundreds of types of Modena balsamic vinegar exist, as the specification of PGI production leaves a wide margin of action, providing the use of grape must in percentages between 20 and 90% and wine vinegar from 10 to 80%. It is allowed to use caramel up to 2% and there are no withdrawals or reinforcements.
It is important not to confuse the balsamic vinegar of Modena IGP with the Traditional Balsamic Vinegar of Modena PDO.
PRICES: according to what we have said before, one can easily imagine that the price of a balsamic vinegar of Modena are quite variable, from a few Euros (in some cases fractions of euros) up to several tens of Euros.
IN THE KITCHEN: the PGI vinegar finds its best use in dishes which requires a high recalled "acid". The particular organoleptic features will also allow the cooking.
To sum up, we would like to state that the original balsamic vinegar of Modena is the most varied and trade of al.
L-Originale Traditional Balsamic Vinegar of Modena: www.l-originale.com