Made in Italy food excellence online
The sale of Made in Italy food excellence online is constantly growing both in Italy and abroad. Furthermore, the situation linked to Covid-19 has definitely favoured this type of trade. Already growing even in the pre-pandemic period.
Today sales do not concern only the consumer products. Undoubtedly determine the majority. Are increasingly directed towards the segment of high-quality products. Niche products, real "gastronomic goodies" impossible to find on supermarket shelves. In short, limited productions that thanks to the web have a way of being seen and appreciated everywhere.
Consumers attentive, aware and eager to taste gourmet products rely on the Internet to search for them and when asked for the answer: numerous sites offer articles that honour the "Made in Italy".
Among the various Made in Italy food excellences online,
it is with pleasure that we also find our beloved Traditional Balsamic Vinegar of Modena. A product that we feel like saying. Everyone talks about it and nobody knows about it. Do you know what are the differences between a Traditional Balsamic PDO and a Balsamic PGI? https://usebalsamicvinegar.com/the-best-balsamic-vinegar/
As you can easily imagine, Balsamic Vinegar of Modena has been exported and is known all over the world. But I guarantee you in a different form from what we Modenese are used to having on our tables and used in our recipes. Products with prices reachable by the people have been marketed in many foreign countries. Products that for us lovers of the "Traditional" are far from being called excellence.
Today, online helps us to clarify and give more information to the end customer. An example is aim.store, a site mainly dedicated to Made in Italy. The objective: to make known and bring the small productions of excellence of the Italian territory directly to the final consumer on international markets.
A beautiful demonstration full of different types of products that offers the user a trip to the best Italian shops. To discover unique products. One section is dedicated to Food Gourmet.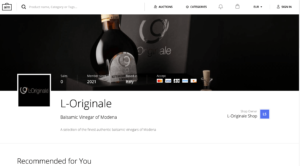 Here are presented many culinary delicacies, including the Oro Nero di Modena. https://l-originale.aim.store
A splendid demonstration of how much attention to the quality and uniqueness of the products is the common thread of the various proposals for the consumer.
The web, an ever-expanding world that gives even small producers the opportunity to present, as in our case, products that would hardly be known.
Greetings from Modena