Balsamic Vinegar is not only a salad dressing! The so called "black gold" pairs wonderfully also with cheese, fruit desserts and dark chocolate. In today's recipe – light brownies with strawberries and balsamic vinegar – we'll show you how the intense taste of Vinegar can match perfectly with strawberries and bitter cocoa, giving the cake not only a particular taste but also a perfect softness. Let's start with the ingredients!
Ingredients
100 grams of brown rice flour
20 grams of Dark chocolate powder
20 grams of Coconut or seed oil
40 grams of Kefir milk or low-fat yogurt
100 grams of Egg whites
1 small egg
2 tablespoons of Stevia sweetener
1 teaspoon of Baking powder
Traditional Balsamic Vinegar of Modena D.O.P

300 grams of strawberries
5 grams of Coconut or cane sugar
10 grams of drops of dark chocolate (optional)
Procedure
light brownies with strawberries and balsamic vinegar:
Wash and cut the strawberries into large chunks. Cook for about 7 minutes with coconut sugar and Traditional Balsamic Vinegar of Modena. After 7 minutes pour the mixture into a colander and let drain all the syrup that has formed (do not throw away the syrup because it will be used for the dough).
At this point combine the egg whites with the whole egg, add the stevia and whip until the mixture doubles the volume and becomes clear. Then add the kefir, the coconut oil, the Balsamic Vinegar syrup (the one you got by cooking the strawberries) and mix with a whisk.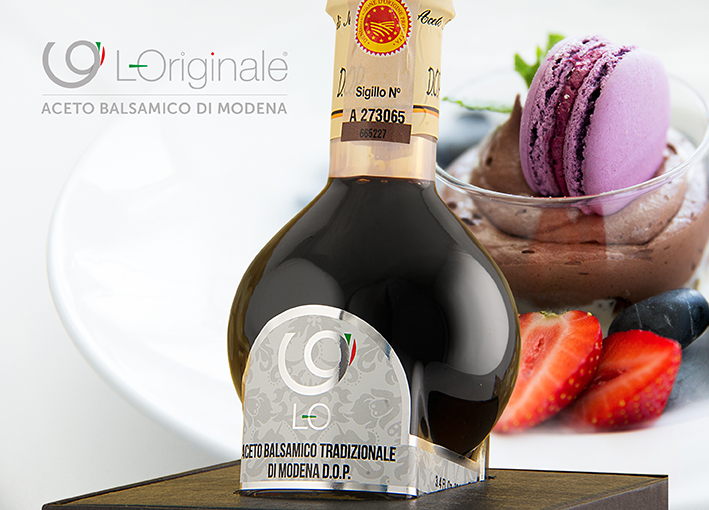 At this point sift the cocoa, baking powder and rice flour. At this point, pour the dry ingredients in the liquid ingredients and mix carefully trying not to disassemble the mixture. Then cover a square mold (20 x 20 cm) with baking paper and pour the mixture. Spread the cooked strawberries on top, sprinkle with the dark chocolate drops and finally bake in the preheated oven at 180 ° C for about 30 minutes.
After just half an hour this easy dessert is ready to be tasted! Enjoy! And check our Blog for many other tasty recipes!

L-Originale Balsamic Vinegar of Modena: www.l-originale.com