What are the Balsamic Condiments? The world of Modenese Balsamic Vinegar is made up of 3 different products:
Balsamic Condiments, Balsamic Vinegar of Modena PGI and Traditional Balsamic Vinegar of Modena PDO.
Today we are going to talk about the Balsamic Condiments, a very complex and extremely varied segment.
In the past, we have repeatedly talked and compared the differences between Balsamic PDO and Balsamic PGI. Their production methods dictated by the respective Regulations.  The ageing times dictated by law.  Their ingredients, and their respective Consortium for the protection of the product. Here you can find an article on https://usebalsamicvinegar.com/the-best-balsamic-vinegar/
The Balsamic Condiments segment, which certainly occupies an important part of the market, is very diversified. In some respects, it could seem like a real jungle.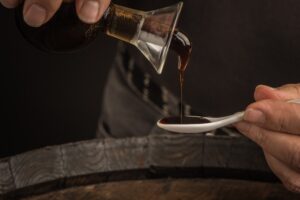 The producer has the entire segment in his hands. It has no production regulations or disciplinary regulations. There are no control bodies. The law does not establish minimum product ageing times. There are no restrictions on the use of ingredients. The producer bottles it directly and any container can be used for packaging.
In short, a segment where we can find joys and sorrows made up of products with completely different characteristics.
Here it is possible to taste artisanal products that in all respects are excellent Traditional Balsamic Vinegar of Modena. It's obtained with the same production method. It is made with decennial ageing. The producer bottles it directly and not the Consortium as required by the Discipline, therefore they can not forge the ABTM name and the PDO brand.
We can also find products with characteristics very far from the Traditional product such as balsamic glazes flavoured with various fruit flavours.
What are the Balsamic Condiments?
An example:
Traditional Balsamic Vinegar is made from cooked must and can only be sold after at least 12 or 25 years.
Balsamic Condiments can contain cooked must, wine vinegar, caramel, thickeners, colourants, glucose, fructose, fruit flavours and can be put on sale the day after their production. 

It is easy to understand that many of these products, for us lovers of Traditional Balsamic, are very far from our eating habits and our passion. In this segment, we also find excellences that are the result of the millenary tradition of our Black Gold. Traditional Balsamic which, given their high quality, the producer wanted to keep for himself and his special customers.
In conclusion, the world of Modenese Balsamic is extremely large and varied. It is made up of products of the highest quality and others that bear only the name of the original product. As always, we remind you to carefully read the product labels to find the most suitable for your needs.
If you have any doubts or questions, please do not hesitate to contact us, we will gladly answer you.
Greetings from Modena