During holidays, creativity in kitchen must meet necessity, due to the many guests that you'll have. So, if you want something that surprises everyone, we got the solution for you! Try our beef roast in salt an easy, and yet spectacular, recipe!
Enjoy!
Ingredients for 6 people: beef roast tied with twine 1.2 kg., coarse salt 1 kg., EVO oil 1 glass, pepper grains to taste, juniper berries, a small glass of balsamic vinegar of Modena and a sprig of rosemary.
Preparation:
Take an oven-dish (preferably made of glass) and cover the bottom with some coarse salt, lay the beef on it (without cutting the string) and cover the meat with the remaining salt. Put it in the over for 30 minutes at 200°.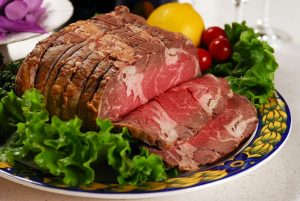 Meanwhile in another cup you can prepare the dressing with the oil, pepper grain, juniper berries and fined cut sprig of rosemary. Stir and then use balsamic vinegar.
From time to time, check the meat and poke it with a fork to controll the degree of cooking.
During the cooking, the salt will start mixing with juices of the meat and will form a crust around the roast. This is the signal that the roast is made.
Take out the meat from the oven, brush away the salt and cut the twine. Now you are ready to serve the roast.
Wait for the meat to cool down before cutting it and when it's room temperature start slicing it.
Put the slices on a plate and dress them with Balsamic Vinegar of Modena sauce that you previously made.
This was the last step for the preparation of our beef roast in salt and, as we promised you before, you will be happy! In fact, this recipe will make you so happy that you will try it again!
Buon appetito
L-Originale Balsamic Vinegar of Modena: www.l-originale.com