The right place for the Balsamic. Does Traditional Balsamic have the right place to age? Do you know where the battery of barrels for Traditional Balsamic Vinegar of Modena is placed in the house? And do you know which is the right battery to use and why?
Nothing is left to chance in the production of Traditional Balsamic, even the choice of the environment is really important and it makes the difference.
ABTM is a "living" product, the vinegar-bacteria contained in it are essential for the product to survive and work better in certain climatic conditions that we easily find in a specific environment.
The right place for the Balsamic
The attic is the best place for the Traditional Balsamic Vinegar.
This room is not heated and subject to climatic variations dictated by the seasons. It is the perfect environment to keep the barrels inside. The hot summers that burn the roofs and heat the attic (15/38 degrees) allow the microorganisms to work properly. The cold winters (0/15 degrees) cool everything and allow the microorganisms to rest and the product to settle.
The slow microbiological and chemical-physical transformations of cooked must (the only ingredient of ABTM) are dictated by the temperature of the environment.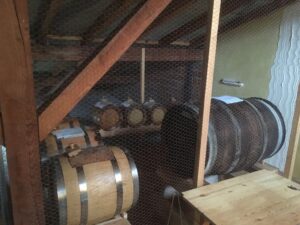 What other requirements or precautions are indispensable?
The optimal room should be oriented to the South-West, have a non-insulated ceiling and be positioned above an unheated room or otherwise have an insulated floor. It also needs to have enough space to comfortably conduct battery activities, but also be ventilated and not wet.
This last feature highlights the need to equip the windows with mosquitos nets to prevent the access of any animal or insect.
We would like to remind you that Balsamic barrels are not airtight like wine barrels. The hole's barrels are always left partially open to allow oxygen to enter. For this reason, you will often notice some cotton patches lying on the hole of the barrel.
A curiosity: often the cotton patches are soaked in cooked must to make them adhere evenly to the barrel.
Sometimes it happens that in large attics the safety net is positioned to form a "room within the room".
The attic floor also needs attention. Cleanliness, hygiene and the absence of dust are essential for the production of this food excellence.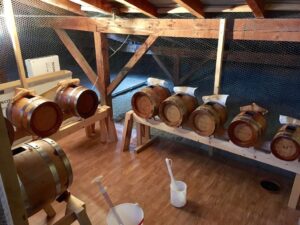 As you can see in the photo, the floor in this house has been optimized using linoleum sheets.
It is very useful to have a large sink with running water and a cupboard used to contain all the instruments necessary for the work in the vinegar factory (bottles, flasks, buckets, funnels, etc…)
These are a few simple tricks that can make a difference. Traditional Balsamic Vinegar has the right place to age.
If you want to have more information about how Traditional Balsamic Vinegar of Modena is produced you can read these articles:
Greetings from Modena.