Christmas is coming! A perfect dessert for this festivity? Zuccotto of Panettone and hearts of fois gras pralined with Balsamic Vinegar is the answer! Panettone is the traditional Italian Christmas bread. This sweet bread is loaded with candied citron, lemon zest and raisins, and baked in a cylindrical mold, which gives it a distinctive shape. This candy represents an holiday treasure to many Italian families!
Ingredients
500 gr of panettone
300 gr of ricotta
100 gr if mascarpone
100 gr of fresh cream
110 ml of water
100 gr of granulated sugar
180 gr of marrons glacés
60 gr of dark chocolate
60 gr of walnut kernels
50 ml of Marsala
50 ml of milk
5 egg yolks
1 tablespoon soluble coffee
1 tablespoon of starch
Traditional Balsamic Vinegar of Modena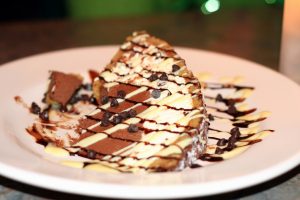 Procedure
First of all, cut the panettone into 2 cm thick slices and and use some of them to cover a zuccotto mold. Then, prepare the coffee cream: heat 100 ml of water and dissolve the soluble coffee, then let it cool. Meanwhile beat the egg yolks and add 50 g of sugar and the starch. At this point, add the coffee and the cream, mixing well. Make the cream thicken in a warm bath, stirring constantly, then let it cool.
In another bowl, mix the ricotta, the mascarpone cream and the remaining sugar. Then add Marsala and 50 ml of milk and mix well. At this point, add half of this cream to the coffee cream and add also the coarsely chopped walnut kernels.
Coarsely chop also the marrons glacés and the dark chocolate and add them to the remaining ricotta and mascarpone cream.
At this point, pour the white cream into the zuccotto mold and level it well. Then pour the coffee cream. After that cover the bottom of the mold with the remaining slices of panettone; then cover the zuccotto with plastic wrap and place the mold in the refrigerator for at least 5 hours. After 5 hours the dessert is ready to be served!
L-Originale Balsamic Vinegar of Modena: www.l-originale.com