A different original exclusive Gift Are you looking for a different original exclusive Gift? Imagine giving something to someone that in the past was proudly given to two Emperors.
Several times we wondered about what to give to someone that "has got everything". Today we will talk about a different original exclusive gift idea.
Let's have a look at some historical information before.
Henry III, king of Franconia, on his way to Rome for his coronation of Emperor asked to receive a small quantity of a product while crossing the Matildiche lands of the Marquis Bonifacio of Tuscany (Italy) during his trip in 1046.
Lucrezia Borgia, Duchess of Ferrara, asked for some of the same product to soothe the pangs of childbirth in 1500.
Duke Ercole III of Este sent the same product to Francis II of Austria, Emperor of the Holy Roman Emperor, during his coronation in 1792.
We are talking about a culinary treasure that is part of the tradition of the wealthiest Modenese families.
This rare product is called "Black Gold" of Modena.
The product was sponsored by the Estensi family (a reigning family in Modena) in the different European Noble Courts since 1578.
They used to give it to the guests on important occasions.
A different original exclusive Gift
The Balck Gold is a product of such high value that it was and still is a customary today to create a new battery of vinegar barrels at the birth of a daughter to leave it as a dowry for her wedding.
This product is also considered an elixir as well as an excellent food condiment of great value. It has always been a gift option.
Even today, people from Modena proudly give the Balck Gold as a special gift.
The next time you are looking for a different and original gift, we recommend you choose this unique food excellence in the world: Traditional Balsamic Vinegar of Modena PDO.
Why choose Traditional Balsamic Vinegar?
A lot of people think that they know this product, but they don't. Also, few people have tasted it.
First of all, I want to draw your attention to the Traditional adjective and the PDO brand. These two adjectives identify the product as the "king" of the Modenese culture.
A vinegar's origins are from the ancient Romans. It made with a single ingredient cooked must and has always been present in the tables of the noble families of the province of Modena.
Traditional Balsamic Vinegar of Modena PDO is food excellence with limited annual production.
Let's look at some numbers:
– 10.000 litres were produced in 2019
– 100.000 bottles of 100 ml in 2019
It is obtained after ageing for at least 12 or 2 years in small barrels of different woods.
It is a niche product for a few lucky people.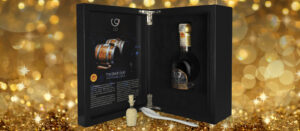 From a battery of barrels usually made up of 6 or 7 barrels after 25 years of ageing only 1.5 or 2 litres of Traditional Balsamic are taken per year.
This is a completely different product from the Balsamic Vinegar of Modena PGI that we usually find on supermarket shelves around the world.
In 2019 were produced 100 millions litres of Balsamic and it is put on sale even after 60 days of ageing. he ingredients are cooked must, wine, vinegar and caramel. The ingredients are cooked must, wine, vinegar and caramel.
It is the perfect gift to amaze a person who will receive it thanks to its peculiarities.
Its unique and unrepeatable taste will make the eyes of the few who will have the opportunity to taste it shine with joy.
You can taste it pure with a teaspoon at the end of a meal. It will flood your palate by enveloping it with unforgettable flavours.
It can consolidate the most daring culinary "marriages" using raw as a final dressing of the dish. It is easily combined with foods, enhancing the result of the recipe.
For example, you can pour a few drops on pumpkin risotto, baked prawns, strawberries or let yourself be amazed by the ice cream with Traditional Balsamic Vinegar of Modena.
A different, original, exclusive Gift.
Greetings from Modena.
L-Originale® Aceto Balsamico di Modena: www.l-originale.com