Not everyone knows how to use Balsamic Vinegar while cooking. What is its correct use? The common use is for salads dressings, but you can use it in different ways also.
Balsamic Vinegar is a versatile ingredient. It has a special place in our kitchens. It combines with different foods such as meat, cheese, vegetables, fish and shellfish, risotto, fruit and desserts.
But not everyone knows that:
To understand how to use this ingredient we must begin by clarifying which are the ingredients that make up the two categories of Balsamic: PGI and PDO.
Balsamic Vinegar of Modena PGI
It is an industrial Balsamic with a production of 100 million litres (according to 2019). It is best known and exported all over the world and consists of: cooked must, wine vinegar and a maximum 2 % of caramel.
A product that you can use raw as a final condiment due to its characteristics. You can also use it while cooking in a pan over the flame (for example a fillet of beef with Balsamic Vinegar: https://usebalsamicvinegar.com/beef-fillet-with-balsamic-vinegar/

Traditional Balsamic Vinegar of Modena PDO
This product is one of Italian excellence. The world Traditional means that it is an artisan product. We call it "black gold" as a result of centuries-old traditions.
The production in 2019 was only 100 thousand of bottles of 100 ml each. It is made up only of cooked must. Traditional Balsamic Vinegar throughout of its very long ageing period (from 12 to 25 years) transforms itself and become prized gastronomic excellence.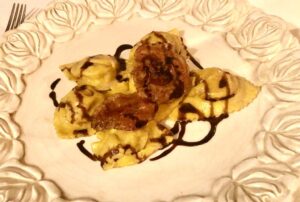 It is very simple to use it in the kitchen. You have to use it exclusively raw as a final condiment for the dish.
Combine this incredible ingredient with all foods thanks to its characteristics such as syrupiness and sweet and sour taste. You can use it for example with an appetizer by putting a few drops on the flakes of Parmigiano Reggiano. Another use is with the pumpkin tortelloni, baked prawns, strawberries or with ice-cream!
We are sure that you will enjoy all these combinations.

You can also taste it at the end of a meal as an excellent digestive.
As you can see (and we advise you to try the product) its ease of use and the result you will get will allow you to understand why Traditional Balsamic Vinegar of Modena is considered food excellence in the world.
Do you that for its uniqueness is was proposed to make it a "UNESCO Intangible Heritage"?
It is important to know how to use this product so you will be able to prepare new recipes.
You can find out a lot of interesting recipes on our Blog.
Learn how to recognize quality Balsamic.
Greetings from Modena.