An idea for dinner with Balsamic Vinegar
We are at the usual times, it's late afternoon, nobody knows what they want for dinner but everyone wants to try something new, which doesn't have the same taste as everyday dishes. Here then, an idea for dinner with Balsamic Vinegar: easy, delicious and fresh!
As summer approaches, salads are gaining more approval. There are those who choose them because they want to prepare for the costume fitting, those because they just like them and those because they want something fresh. Whatever your reason that leads you to choose a salad, we offer you an idea for dinner with Balsamic Vinegar.
By the way, did you know that Balsamic Vinegar has excellent digestive properties? Those who choose to eat a salad because they are still full from lunch may find it beneficial to add a drizzle of Balsamic Vinegar of Modena to the salad. In fact, it promotes digestion!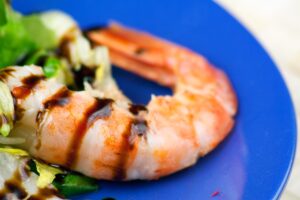 What do you need:
Green salad

Black olives

Cherry tomatoes

200g of peeled shrimp

150gr of feta cheese

Extra virgin olive oil

Balsamic Vinegar of Modena (preferably P.D.O.)

Salt

Lemon
Preparation:
In a pan, brown the shrimp with a drizzle of oil and a pinch of salt. While letting them cool, cut the feta into cubes. Also, cut the cherry tomatoes and olives (if you don't like them whole). At this point, wash the salad block and dry it.
Put the salad into a large bowl. Add the shrimp, olives, tomatoes and feta. Mix it with Oil and Traditional Balsamic Vinegar of Modena PDO. You can also add the juice of half a lemon to taste.
To serve your salad, you can think of heating two slices of toasted bread with seeds or cereals: the crunchiness of the bread, with the seeds, will go very well with the freshness of the salad. Also… no delicious drop of Balsamic Vinegar will be wasted if you make it!
An idea for dinner with Balsamic Vinegar, ready in a few minutes!
Greetings from Modena