Onions and fennel with Balsamic Vinegar
Today we offer you a recipe from our friend Paola: onions and fennel with Balsamic Vinegar of Modena, a side dish that you can combine with grilled meat or hard cheeses.
A few simple ingredients will give life to a dish that you will surely repeat.
Cooking with Paola has in this recipe offers us a side dish that combines the warm flavour of the so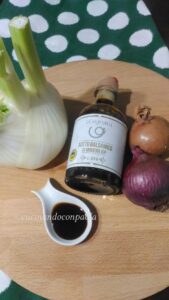 uth with an exclusively Modenese product.
Ingredients
1 large fennel

1 large red or white onion

3/4 tablespoons of Balsamic Vinegar of Modena PGI

Extra virgin olive oil

1/2 glass of water

salt

1 tablespoon of sugar if needed

Fennel seeds
Preparation
After carefully washing the fennel and peeling the onions, cut both into thin slices.
In a non-stick pan, gently brown the onions in the oil and when they have softened, add the fennel, do not forget to add a pinch of salt which will also help release the water.
Continue cooking for a few minutes, add the Balsamic Vinegar of Modena PGI and let it evaporate slowly. We advise you to add a small spoonful of sugar.

At this point, if the vegetables are still hard, add a little water and cook until the liquids are reduced.
When cooked, add the fennel seeds, turn off and leave to rest for at least 2 hours.
The dish is ready. You can serve the onions and fennel with Balsamic Vinegar.
Thanks, Paola for using our product. Here you can find the original recipe: https://bit.ly/3rA7b2S
We remind you that the Balsamic Vinegar of Modena PGI, as in this case, can be used in a pan over the flame while cooking food, while the Traditional Balsamic Vinegar of Modena PDO must always and exclusively be used raw and cannot be used during cooking.
Greetings from Modena!