Pasta au gratin with Balsamic Vinegar
Colour and flavour of Italy: today we cook pasta au gratin with Balsamic Vinegar of Modena!
From colours to all-Italian flavours, this is a tasty first course, easy to prepare and suitable for the whole family!
What you need for 4 people:
400gr of short pasta (of your choice, macaroni or penne are excellent)

1 onion

2 cloves of garlic

3/4 medium-sized tomatoes or about 10/12 cherry tomatoes

200gr of fresh mozzarella

Grated Parmesan cheese

Fresh basil

Salt

Pepper

Extra virgin olive oil

Traditional Balsamic Vinegar of Modena

Chilli pepper
How to prepare
To prepare the pasta au gratin with Balsamic Vinegar, we start by preheating the oven to 180 °C.
Firstly, in a large pot, put the water to boil, here we will cook the pasta according to the instructions on the package. Meanwhile, finely chop the onion and garlic cloves and place them in a pan with a drizzle of oil. We cut the cherry tomatoes and add them to the pan. Let it brown until the tomatoes are crushed and everything takes on a golden colour.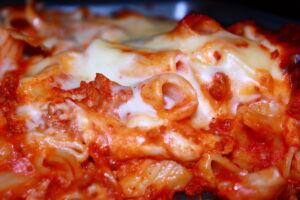 We salt and pepper to taste. From time to time, add a ladle of pasta cooking water. When almost cooked, add some fresh basil and a drizzle of Traditional Balsamic Vinegar of Modena, directly into the pot with the cherry tomatoes and onion.

Drain the pasta and place it in the pan with the cherry tomatoes. Cut the mozzarella into pieces and add this to the pot as well. We mix well before transferring everything to a baking dish. Sprinkle the surface with grated Parmesan and bake for about 20 minutes (if you like the crust, you can leave the dough in the oven for 30 minutes).
Finally, decorate with more basil leaves and a last drizzle of Balsamic Vinegar. Let it rest for a moment before serving the pasta au gratin with Balsamic Vinegar to your guests and then savour it with gusto!
Et voilà! Does it have a taste of Italy?
Greetings from Modena