Today we will reveal all the balsamic vinegar tricks we have collected over time. All these tricks will allow you to use Balsamic Vinegar in different ways and enjoy this true gastronomic excellence.
Original Balsamic Vinegar is a delicious condiment mainly associated to the Italian traditional kitchen; however it is also one of the most versatile existing condiment and therefore it could be used in a great variety of ways.
Use it to prepare Ketchup!
Preparing ketchup at home has never been so easy! Just put tomato sauce, a spoon of sugar and a bit of Original Balsamic Vinegar PGI   in a pan and mix them. Then let the ingredients simmer and reduce for an hour. Balsamic Vinegar will give the sauce a more intense flavor.
Use Balsamic Vinegar to caramelize!
You can also use Balsamic Vinegar IGP to caramelize fruit! It is sufficient to put the fruit in a pan with oil, sugar, and Balsamic Vinegar and let it cook slowly.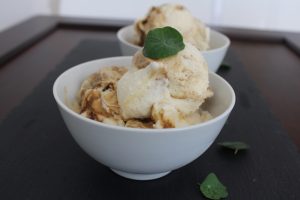 Use Balsamic Vinegar to garnish desserts!
If you have the Traditional Balsamic Vinegar DOP,  the first trick involves desserts! The tang from the Vinegar gives any dessert the modern edge it needs. Drizzle it on ice-cream, sorbets, pudding or use it as a topping on cheese-cakes to enhance their flavors.
Use it to make a fruity glaze!
Furthermore you can use Balsamic Vinegar to prepare tasty fruity glazes! Fruity glazes are basically a reduction of a fruity jam and Balsamic Vinegar. All you need to do is to mix together the Balsamic Vinegar IGP and and the jam, in a ratio of 5:1 and let the mixture simmer until it reduces by a half. These glazes taste wonderfully on almost every dish, from fish to meat.
Last but not least…
The last trick will allow you to turn a cheap Balsamic Vinegar into a Vinegar that tastes just like the traditional longer-aged version! How to do it? It is super easy: just add a bit of sugar and a splash of port to give the low-quality Vinegar a flavor similar to that of a Vinegar that's been aging for decades.
But the BEST is …
Try it raw using a ceramic spoon an inspiring experience drop by drop. Thanks to its properties it is even excellent an after-dinner digestive, this is the right way to savor this extraordinary gastronomic excellence.
What do you think of the different use balsamic vinegar tricks?
L-Originale Balsamic Vinegar of Modena: www.l-originale.com